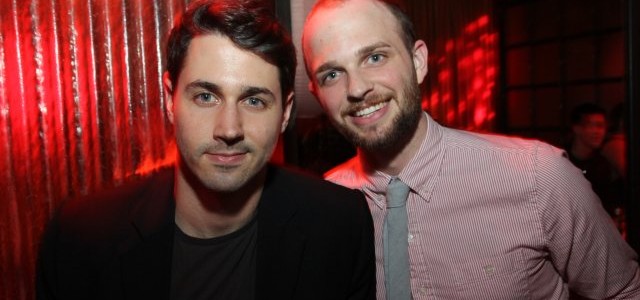 Q & A with Next's New Editor-in-Chief Alex Erikson
We had the chance to catch up with Alex Erikson about his new role and experiences working at New York's go-to gay events guide. Alex (above right) replaces Benjamin Solomon (above left) who helped transform Next Magazine  during his six years there. [Photo by Gustavo Monroy]
 Q: In your new role as Editor-in-Chief, what  new features and changes might you be bringing to Next? What can we look forward to in future issues? 
A: Anyone at the helm of a media company in 2013 faces some pretty lofty challenges. Previously, a magazine may have had to struggle with their brand identity, and how they intend to best engage their audience on a single platform—but now, as media has shifted from entirely print to mostly print with some digital media to some print and an enormous quantity of digital media, brands have had to nimbly adjust to changing tastes and consumption habits on the part of media consumers. Fortunately, I follow in the footsteps of editors—namely my predecessor Ben Solomon—who have had great vision for the digital future of Next. I plan to continue and expand upon that vision, while also making sure that what sets Next apart and keeps our readers engaged in our printed edition—our top quality, hyper-local content—remains just that. Keep your eyes peeled for our upcoming special wedding issue, our super sexy swimsuit issue and of course our comprehensive local Pride coverage in June.
 Q: What's it like to rise through the ranks of New York's top gay events magazine? Any memorable office moments you'd care to share?
A: It's really been an amazing experience. Because we're a relatively small staff putting out an enormous amount of content on a weekly basis, I've learned more in my two years at Next than any other period in my career. What really makes the experience great is the fantastic people I work with. Ben, who I mentioned, our art director Charlie Piazza, our associate editor Will Pulos, our director of advertising Don Robinder—who's been with Next since 1993—our account executive Roberto Buckley, and of course our publisher David Moyal, without all of whom there would be no Next.
My first day was pretty hilarious. Because, at the time, my email was a generic email that we printed and listed pretty much everywhere and that had been around since the beginning of email so that people could send us listings information, I used to get a lot of junk mail. A LOT of junk mail. But I didn't realize that on my first day. So, as I sat down at my desk, not really sure about anything, I started sorting through the emails I had waiting for me. Eventually I came across an invitation to a sex party where instead of blind carbon copying everyone on his sex party list, the organizer had carbon copied everyone. That meant that all these horny guys on the sex party list now all had each other's email. So, nervous to do a good job on my first day, I then played witness to like 200 penis pictures the guys on the email list were all sending back and forth. I'll never forget that.
 Q: With the ever growing pressure for print magazines to continue to expand their web and social media presence, where do you see opportunities and challenges in the queer digital sphere?
A: As I mentioned before, I think it's incredibly important for us to expand our web presence. But I also think the trick for Next is to do that without losing our local edge—it's tempting to jump on national stories that may get us a lot of quick attention, but ultimately that's not what we do. We're New York's gay guide—and that's what we do best. I don't want to say too much about our future plans, but I think there is definitely an untapped market for gay tourists and travelers looking for the inside scoop when they come to New York.
 Q: Where do you find all the hot models for your covers? 
A: Have you taken a look around Hell's Kitchen?! This city is literally crawling with hot chorus boys, go-go boys and just regular gays with smokin' bods. It doesn't hurt that they're also some of the most intelligent, talented people I've ever met.
Q: You've been spotted at our Desilicious bash. What was your first impression walking into a gay Bollywood party?
A: For me, a good party has that elusive mix of a fun-loving crowd, great music and then that little something extra—whether it be a performance, an art installation, drag show, or whatever—and Desilicious has all three. And how can you not want to dance to those Bollywood beats?
Posted: April 13th, 2013Tags: Alex Erikson, Editor-in-Chief, gay, Next Magazine