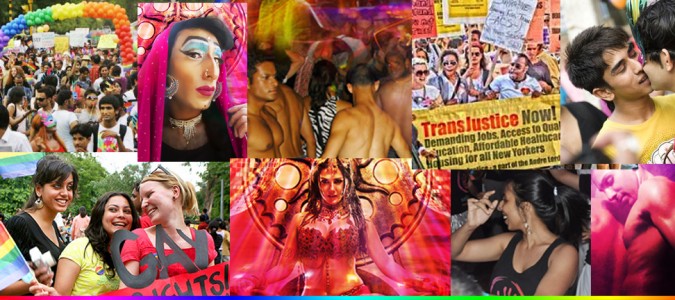 Unofficial 2017 NYC Desi Queer Pride Guide
We've got your list of desi queer things to do during the busiest month of the year when the South Asians take over the town! Below is a round up of events—including marches, parties and exhibitions.  Bookmark this page and keep checking back for updated info.  Email us if you've got a desi queer tip in NYC.
Thursday, June 8th
SALGA Monthly Happy Hour
6-9PM
Therapy, 348 West 52nd Street in NYC
More details here.
Friday, June 9th
Lavender Line: Coming Out in Queens Exhibition Opening
6-8PM
Opening reception of the exhibition "The Lavender Line: Coming Out in Queens". This multimedia exhibition of the Queens LGBTQ community from the 1990s to the present marks the 25th anniversary of the Queens Pride Parade.
Queens Museum
Flushing Meadows / Corona Park
Saturday, June 10th
Brooklyn Pride March
6:30 PM
The annual march will take place on 5th Avenue + Park Place in Park Slope, Brooklyn
Thursday, June 15th
Interfaith LGBTQ Iftar
7-9 PM
LGBT Center 208 West 13th Street
Friday, June 23rd:
Trans Day of Action
3 PM Onward
Join Audre Lorde Project as they lead the 13th Annual Trans Day of Action which will kick off Pride weekend on Friday, June 23rd in Washington Square Park.
Friday, June 23rd:
9th Annual Desilicious Hot Pink Pride Party
10PM – 4AM
Get your pink on and meet us at PS 450 for an over-the-top night!
Music by Ashu Rai
Visuals by Neeraj
RSVP here on Facebook.
Saturday, June 24th:
Dyke March
Saturday June 24th 12PM onwards
Bryant Park, Manhattan
Sunday, June 25th:
11:00 AM
Come march with SALGA NYC at the New York City Pride March. Every year SALGA has a fabulous presence in the pride march where it all started. Join us in representing all the diversity and beauty of LGBTQ South Asians!  Meet at 11 AM sharp at 36th Street & 5th Avenue.   Check their Facebook page for updates.
Sunday, June 25th:
6:00 PM – 1AM
TBD
Posted: June 4th, 2017Tags: NYC Desi Queer Pride Guide