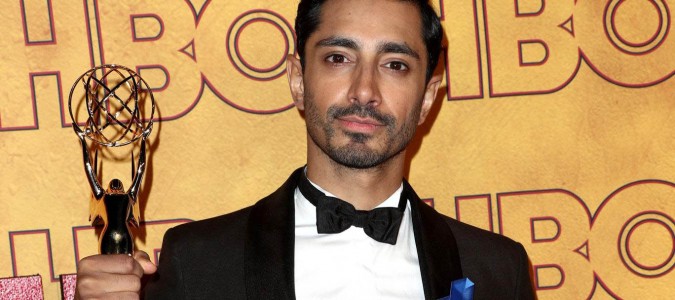 We ♥ You Riz—First Desi Leading Actor to Win an Emmy!
"It's always strange reaping the rewards of a story that's based on real world suffering. But if this show has shown a light on some of the prejudice in our society, Islamophobia, some of the injustice in our justice system, then maybe that's something." Riz Ahmed made history when he accepted the award for outstanding lead actor in a limited series or movie for his role in "The Night Of."(CBS). The first South Asian to win an Emmy leading acting award, the British actor of Pakistani descent gave a shout out to the Innocence Project and South Asian Youth Action (SAYA) during his acceptance speech and donned an ACLU pin to boot.  After the Emmys he told reporters  that "what we're starting to see is more awareness around how beneficial it can be to tell a diverse range of stories and to tell them in a way that's authentic."
This year's Emmy's saw more breakthrough moments for people of color with Aziz Ansari winning the comedy writing award for Netflix's "Master of None" which he share with Lena Waithe, who became the first black woman to win an Emmy for writing on a comedy series.
Posted: September 18th, 2017Tags: Aziz Ansari, Emmys, Lena Waithe, Riz Ahmed