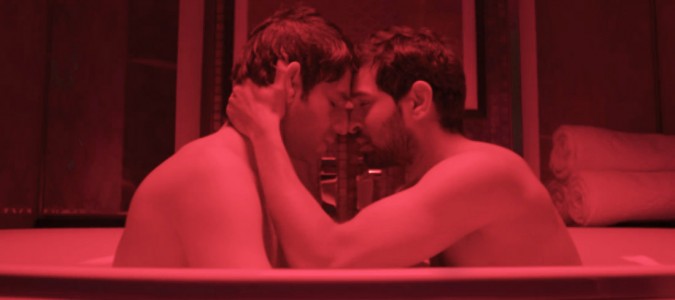 A New Generation of Desi Filmmakers Puts Gay Characters Front and Center
All of us desi queers binge watching Made in Heaven are witnessing a not-so-quiet  revolution on the digital screen. While Bollywood plays catch up on the silver screen with the recent release of Ek Ladki Ko Dekha, internet-driven platforms have been offering wider and fuller representation of LGBTQ Indian characters for the past couple years.
Made in Heaven, the steamy web series directed by Zoya Akhtar that premiered on Amazon in March, chronicles the drama filled lives of Tara and Karan, two wedding planners running an agency in Delhi.  Karan is the unlikely gay hero of the series as his personal journey in accepting his sexuality makes for an engrossing subplot and provides some very provocative queer-eye candy.
Arjun Mather, who plays Karan, describes his first reading of the script, "At that time honestly, I didn't realise the complexity and the development curve of Karan's character. He hasn't accepted himself and has built all these walls around himself. He finally realises that if he wants to live with integrity, he would need to break down those walls and stand up for what he believes in."
A recent article in the Economic Times puts the spotlight on the emergence of complex, uncensored LGBTQ Indian character portrayals on streaming platforms including Neflix, Amazon and Youtube led by young independent filmmakers.
"You have to address the elephant in the room, gimmicks fail, curiosity works. People are curious about LGBTQ persons; let us show them what our life is about. Let us celebrate it and mainstream it in a way that every person can understand. That's how we will create a safe space for LGBTQ people" declares Faraz Arif Ansari, director of Sisak, India's first silent queer short film which has gained international acclaim.
Here's to more full-on multi-dimensional queer portrayals on big and small screens! Oh, and if you're curious about how all the hot desi sex scenes in Made in Heaven were shot, check out the article in Film Companion which provides the inside scoop from a creative perspective.
Posted: March 25th, 2019Tags: Amazon, Arjun Mather, Bollywood, Faraz Arif Ansari, gay, LGBTQ, LGBTQ Indian characters, Made in Heaven, Netflix, Queer, Sisak, Zoya Akhtar