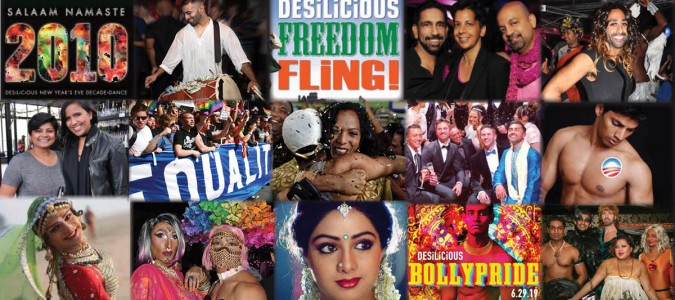 2010–2019: A Sholay Decade Review!
As we bid farewell to 2019 and the entire 2010s, we'd like to share some memorable moments from our Sholay parties along with events and milestones that have touched the Desi LGBTQI community in NYC and beyond.
So Many Memorable Sholay Parties!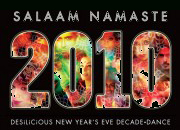 We kicked off the 2010s right on New Year's Eve.  Salaam Namaste Bollywood blowout bash rang in the decade with wall-to-wall cuteness, confetti and too much champagne! In August 2012, we threw our first outdoor party in Brooklyn, "Desilicious Freedom Fling" at the short-lived outdoor bazaar, Dekalb Market.  The joint birthday celebration for India and Pakistan was featured in the Brooklyn Paper. It was a raging party until the residents in the nearby luxury condo issued a noise complaint! In 2013, we teamed up with our Bolly hero Rohan Sheth for "Splaash! a Bollywood Pool Party" in South Beach as part of the Mumbai to Miami Gay Bollywood Circuit Party Weekend festivities.  At 2014′s Hot Pink Pride, the SALGA Dance Team did a stunning flashmob performance hours before they strutted down 5th Avenue during Manhattan Pride that Sunday. Our Bollyween parties unleashed many creatively costumed divas on the dance floor over the years. Who can forget Mystique from X-Men and Bearded Beyonce? Our 2019 BollyPride bash celebrating World Pride was our biggest gathering to date with raging thumkas on stage by Tara Ryst along with the unforgettable return of Bijli and the Sholay debuts of Manghoe Lassi, Begum Nawazish Ali and Mohit serving up live dhol for our crowd of Pride revelers.  And we have to give a shout out to the lovely Vindaloo and our dear Lal Batti, our favorite hostess and desi drag diva who departed for the West Coast in 2019.
Milestones, Equality, Tragedy and Resistance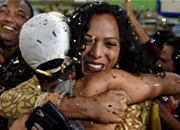 After three years of Trumpitis, it's hard to believe that we were "getting out the vote" for President Obama back in '12 and celebrating his re-election a month later.  And in June 2015 (a week before NYC Pride), the Supreme Court ruled in a historic 5-4 decision that the "Constitution guarantees a right to same-sex marriage"—so many fabulous desi queer weddings followed!  Tragedy struck the LGBTQ community a year later when 49 patrons were gunned down at the Pulse nightclub,  one of the premiere gay venues in Orlando—the largest targeted attack against the LGBTQ community to date.  The election of Donald Trump in 2016 left us gutted but resulted in the Women's March and rise of our resistance against this administration's regressive policies. Finally, on September 6, 2018, the Indian Supreme Court struck down the archaic ban on consensual gay sex. And one month later, Sholay collaborated with WNYC and the Greene Space to celebrate the law's demise.
Remembering the Artists, Icons and Activists That We Lost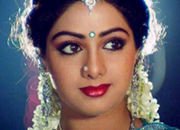 In 2013, Algerian DJ and artist Cheb i Sabbah passed away at the age of 66 from stomach cancer. Cheb i Sabbah was a massive influence on Sholay during our early days, with his renditions of "Kese Kese" and collaborations with Karsh Kale. In 2018, we were shocked and saddened by the untimely death of Bollywood superstar and queer icon, Sridevi, at the age of 54. Targeted killings of desi LGBTQ activists left us grieving and angered. Sabeen Mahmud, a Karachi-based human rights and counterculture activist, was shot to death as she was leaving The Second Floor (T2F) cafe.  And in 2016, Xulhaz Mannan, Editor of Bangladesh's first and only LGBTQ magazine, "Roopbaan,", was brutally murdered along with a friend.  Earlier this year, PEN America shared a remembrance of Mannan and noted that while there were some arrests, the courts have failed to file their conclusions.  And last June, dancer, folk artist and friend Queen Harish was killed in a car accident, along with three other artists, in Rajasthan on route to a performance.  The artist's death was a shock to the Sholay community as we fondly remembered hosting Queen Harish at our parties back in 2008 and 2009.
Desi LGBTQ Visibility in the Media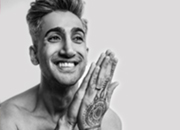 Some noteworthy media highlights include "DesiGirls!", a documentary by Ishita Srivastava that explored the South Asian LGBTI community in NYC and featured  DJ Ashu Rai.  In 2013, following the SALGA Dancers' flash mob performance, we woke up to see the hot pink SALGA / Sholay pride float on the front/home page of the New York Times. In 2014, while 33 queer couples got hitched at the Grammy's, our eyes caught the stunning Yawar Charlie and his blue sherwani.  Five years before Sonam Kapoor starred in Bollywood's first lesbian love story, "Ek Ladki Ko Dekha Toh Aisa Laga", she was very vocal and supportive of the LGBTQI community in this 2014 interview on the Cannes Film Festival red carpet. In 2017 Riz Ahmed became the first South Asian lead actor to win an Emmy for his role in the HBO limited series, "The Night (Of)".  OK, Riz is straight, but he's very hot and we loved his shoutout to The Innocence Project and South Asian Youth Action. And in 2018, Queer Eye fashion expert (and desi cutie) Tan France became the first openly gay, South Asian man featured on a major TV show. Here's to more Desi LGBTQI visibility in the 2020s!
Can't wait to create new memories and memorable moments together in 2020 starting with our Winterwaali Sholay party on Jan 25th! Stay tuned for more details and more Desilicious events throughout the year.
Posted: December 30th, 2019Tags: 2010s, decadeinreview, desi year in review, year in review