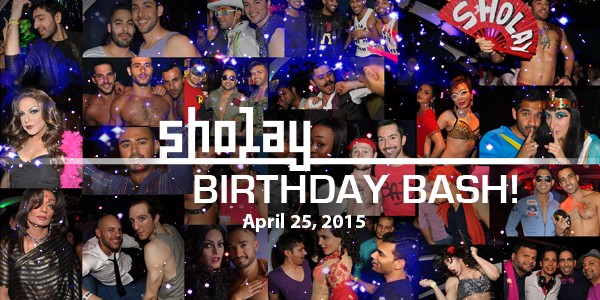 Happy Birthday Sholay! April 25, 2015
Hard to believe we'll be shaking up NYC with Desilicious beats 14 years this month! Thanks to all if you, the party just keeps getting bigger, better, and more fab every time. Don't miss our Sholay birthday celebration where we'll be bringing you more of your favorite desi beats plus big screen visuals and some birthday surprises:
Happy Birthday Sholay!
14 Years of Desilicious – Desi + Queer + FAB
Saturday,  April 25th | Doors Open 10pm
Pachita
618 West 46th Street
(between 11th and 12th Ave)
A/C/E to 42nd Street/Times Square
Saturday, April 25th
Doors Open 10pm
Please note: Pachita's entrance is WEST of Pacha's main entrance
Cover: $20
Just $10 before midnight
You must be 21+ to enter (with ID)
RSVP on Facebook.
Celebrate YOUR birthday with us! If your birthday is around the same time as our bash, why not have a little Desilicious celebration at Pachita? Send us a message with your date of birth and we'll place you on the guest list, provide reduced entrance ($10 all night) to your birthday guest list and reserve a section in the lounge for your group.
Posted: March 7th, 2015Tags: Center for Women's GLobal Leadership, dance party, International Women's Day, Katra, Sholay Events