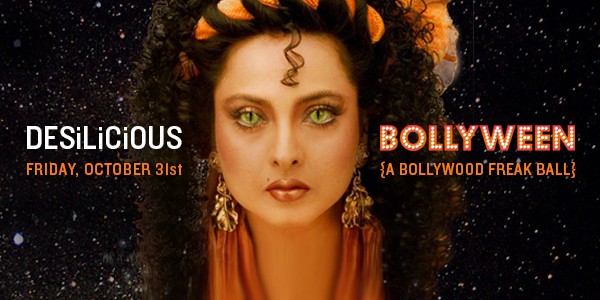 Don't Miss Bollyween on October 31st!
Mark your calendars for Friday, October 31st as we celebrate Halloween with a decidedly dark Bollywood twist. Join us at Pachita as we go bump in the night with beats by Ashu Rai and Atif with big-screen visuals by Neeraj. Opening guest set by DJ Tikka Masala. Look out for masked mayhem making dancers on the go-go box. Arrive early for drink specials, masquerade masks, and other spooky giveaways.

Desilicious: Bollyween
Friday, October 31st
Doors Open 10pm
Pachita
618 West 46th Street
between 11th and 12th Ave
Top VIP floor of Pacha
A/C/E to 42nd Street/Times Square
$20 Cover
A limited number of $10 advance tix are available here.
RSVP on Facebook here.
Must be 21+ to enter
Posted: September 27th, 2014Tags: Bollyween, Bollywood, Desilicious, gay, Halloween, lGBT, New York, New York Halloween, Pride, sholay, Sholay Events, sholay events nyc, sholay party nyc