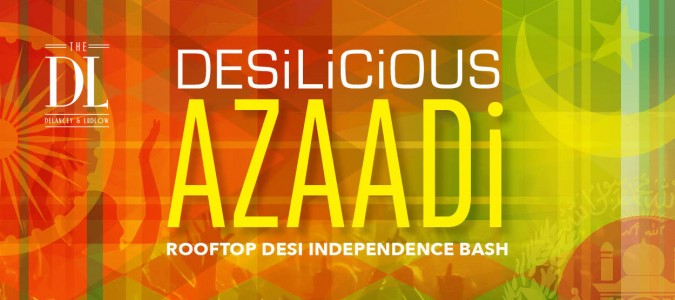 Desilicious Azaadi Saturday | 8/12 | DL Rooftop
Join us at the  Lower East Side's top rooftop dance spot as we celebrate desi independence with a queer Bollywood twist!
Desilicious: Azaadi
Rooftop Desi Independence Bash
Saturday, August 12th
4PM-10PM
Bolly-Mix by Ashu Rai
Big Screen Visuals by Neeraj
Free Admission
The DL Rooftop
95 Delancey Street in Manhattan
21+ to enter (bring ID)
******
You've marched…you've posted…you've shared…you get more and more outraged with each passing day and you're in it for the long haul! Join us for an opportunity to take a break from social media and meet other political souls who are standing against the Trump / GOP agenda.
 Come on the early side and join us for an afternoon of drinking, networking, and sharing ideas & resources on building progressive alliances with an eye on shifting things left in the 2018 mid-terms. We're inviting community leaders, NYC based progressive orgs and individuals to come together for an informal happy hour and networking event at the DL Rooftop with beats by DJ Ashu Rai. The happy hour will segue into Desilicious—NYC's longest running queer Bollywood dance party sponsored by Sholay Productions.
Posted: June 25th, 2017Tags: Desilicious, LGBT South Asian, NYC, Rooftop Party, Sholay Events