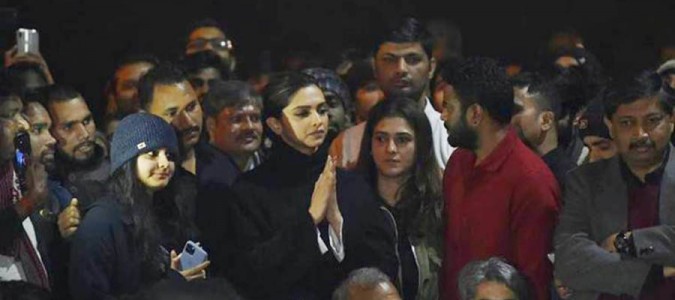 Deepika Padukone: "A Star for the Age"
Two weeks ago, we were lamenting the silence by major Bollywood stars on the enactment of the Citizenship Amendment Act (CAA) by Prime Minister Modi and the BJP government (with the exception of a few outspoken actors, actresses and directors). This changed with last week's storming of Jawaharlal Nehru University (JNU) by members of Akhil Bharatiya Vidyarthi Parishad (ABVP), a right-wing student body linked to the BJP party who vandalized property and injured several students and teachers.  Since then, more Bollywood celebs have come forward to condemn the attack and support JNU students and protestors, including Varun Dhawan who stated that neutrality was not an option and Alia Bhatt, who noted to her millions of followers on Instagram that "any ideology that seeks to divide, oppress and promote violence is one we must strongly oppose".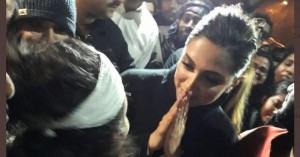 And last week, Deepika Padukone visited JNU, standing quietly in solidarity with the students and greeted injured student leader Aishe Ghosh. While Padukone didn't provide any comment during her appearance, her presence tacitly demonstrated her stand against right-wing violence and in support of the student protestors.
This unannounced visit took place days before the premiere of her new film, "Chhapaak", in which she portrays Laxmi Aggarwal who was burned in an acid attack in 2005. Her visit prompted calls by BJP supporters to boycott the film.
Mid-day writer Paromita Vohra notes that while the film lacks strong "cinematic qualities", it includes something lacking in the cultural mainstream: "deep sincerity, even humility, that does not tip over into self-serving earnestness".   "Chhapaak" conveys the "terror, the horror, the pain of being attacked, shunned, heartbroken and defeated".   It is also a film that reflects these times and as Vohra notes:
" …In this moment, the citizen is the star, and offers the movie star a chance to be a citizen too, not only a brand, reframing celebrity. In the visit to JNU, the star and public mirrored each other. She was welcomed, and easy as one among many. Citizen Deepika, a star for the age."
Posted: January 12th, 2020Tags: ABVP, Aishe Ghosh, Anti-CAA, Deepika Padukone, JNU, Laxmi Aggarwal