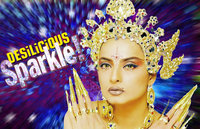 Happy 13th to Basement Bhangra!
Here's a happy anniversary shout-out to our good friend DJ Rekha as she
celebrates Basement Bhangra's Lucky 13 Birthday Bash. Since its launch
in 1997, Basement Bhangra™ has forced New York to sit up and take notice
of Bhangra, rapidly making the desi sound an essential part of the NYC
club scene. The anniversary party's on Friday, April 23rd at 9pm and
features Nina Sky, Bolly hearthrob Raghav and dance lesson by Raeshem
and Reena.
Posted: April 14th, 2010Tags: Basement Bhangra, DJ Rekha