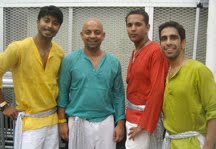 Sholay Dancing Debut at Queens Pride
Sholay Events kicked off pride this past Sunday at Queens Pride, the largest people of color pride gathering in the country. The parade begins near 89th Street and marches down 37th Avenue ending in the heart of Jackson Heights. And, for the past 18 years, despite the fact that the celebrations have been taking place in the heart of desi-Queens, the festival never had any South Asian performers – until this year!
Our colorful Sholay dancers – Atif, Rajesh, Shammie and Zaman – took the stage in Queens last Sunday and danced to a high-energy bhangra-bolly-house mix that took the crowd by storm. You can view the video here. Expect to see more Sholay dancers in the future at Queens pride!
Posted: June 10th, 2010