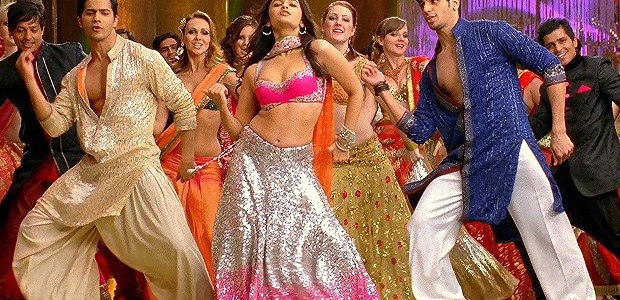 Best Desilicious Dance Songs of 2012
As we say goodbye to 2012, we've gathered some of our favorite dance numbers heard at Desilicious this past year. Also, take a listen to the selection of songs below by Ashu Rai, or click here.
Top 15 Desilicious Tracks of 2012
15. Chinta Ta Ta Chita Chita – Rowdy Rathore
14. Channo – Gali Gali Chor Hai
This video features Pakistani model and actress Veena Malik, who came out in support of lesbian, gay and transgender marriage rights earlier in the year. Looking forward to more of Veena in 2013!
13. Fevicol Se (Remix) – Dabanng 2
We were slightly disappointed when director Abhinav Kashyap was replaced with Arbaaz Khan, but even more upset to learn we wouldn't be treated to a "Munni Part Deux". The sequel didn't include Malaika Arora Khan this time around, even with her husband signed on as a director. But, we have to give some credit to Kareena Kapoor (after her less than stellar dance performance in "Dil Mera Uft Ka"). Expect to hear more of this track at the February 8th Desilicious party.
12. Hookah Bar ( (DJ A.Sen & DJ Amann Nagpal Official Mix) – Khiladi 786 The soundtrack was released in late 2012 and we're really digging this remix by A. Sen and DJ Amann, with vocals by Himesh Reshammiya.
11. Desi Thumka (Mixtabishi & Mofolactic
Remix) by Nouman Khalid (with Osama Com Laude) –
This is a very catchy dance song by NYC-based Pakistani singer, Nouman Khalid, who teamed up with rapper Osama Com Laude for "Desi Thumka". Our favorite version was the remixed track by Australian-based Mixtabishi & Mofolactic.
10. Boom Boom ( Lip Lock) – Ajab Gazabb Love
9. English Vinglish – English Vinglish Thankfully, 2012 belonged to Sridevi, who was praised by critics and audiences for her "comeback" performance in English Vinglish. And, we're hoping that Rekha is working on something similar in 2013.
8. Anarkali Disco Chali – Housefull 2 This was one of the most requested songs in 2012 (and our #1 track), with the video featuring our beloved Malaika Arora Khan with Mithun Chakraborty and Boman Irani.
7. Aga Bai – Aiyyaa This wins the Sholay award for "Most Visually Appealing from the Dance Floor", with this fun video with Rani Mukerji and Prithviraj Sukumaran from Sachin Kundalkar's Aiyyaa. And, here it is below for your viewing pleasure:
6. Second Hand Jawani -Cocktail
With Miss Pooja, of course…
5. Mashallah - Ek Tha Tiger This video was overhyped and promoted as the 2012 comeback of Salman Khan and Katrina Kaif. While the choreography along with Katrina's moves are below average (not surprising), the song – performed by Shreya Ghoshal and Wajid – was a big winner on the Desilicious dance floor. And, it helped fulfill our craving for a good Bolly-Middle Eastern dance number after a long drought.
4. Halkat Jawani – Heroine Even with an overly emotional Kareena and some obvious stereotypes, Heroine was one of our favorites movies of the year.
3. Dil Mera Muft Ka (remix)-Agent Vinod While Kareena's attempt at a mujhra-style performance wasn't up to our Rekha/Aishwarya standards, both the song and Malini Awasthi's vocals (with Muazzam, Shadaab and Altamash on backup) are a delight. But, make sure to also check out the non-remixed version with Nandini Shrikar on lead vocals.
2. Tumhi Ho Bandhu -Cocktail
Ok, we have two choices for #6, but it was hard not to include more than one song from this fantastic soundtrack composed by Pritam.
1. Radha – Student of the Year Even though the video could have been much better (even with all of the eye candy), it was all about "Radha" in 2012!
2012 Desilicious Honorable Mentions:
We also want to give a shout out to some songs that didn't make the top 15 cut, but were still on repeat, along with essential classic remixes that were released in 2012:
"Jhoom Jhoom Ta Hun Main" – Players
"Ishq Shava" and "Challa" – Jab Tak Hai Jaan
"Heroine" – Heroine
"I Want Fakht You" – Joker
"Rum Whiskey" – Vicky Donor
"Disco Song" Student of the Year
"Jhalla Wallah" – Ishaqzaade
"Aa Re Pritam Pyare "- Rowdy Rathore
"Dreamum Wakeuppam"- Aiyya
"Katal Kare" – Feat. DJ Sanj & Jay Status
"Tera Bina" (DJ Shadow Dubai & DJ Joel mix) with Rahat Fateh Ali Khan from Tezz
"Jugni Ji (Coke Studio)" – Desi Tadka Mix
"Mere Joota Hai Japani" (Ribin Richard Mix)
Song that didn't make the list because it was released in 2011::
"Chikni Chamel" – Agneepath
Posted: December 29th, 2012Tags: 2012, Best Bollywood, Top Songs