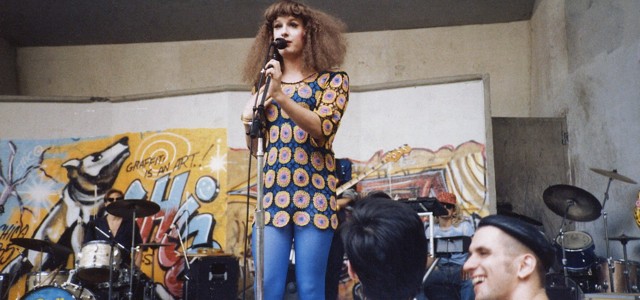 "NYC C. 1985″ at Clamp Art with Photos by Linda Simpson
Be sure to check out this fab show at Clamp Art in Chelsea – "NYC C. 1985″ with some wonderful shots of New York City in the mid-1980s. The show is influenced by the newly-released portrait book by Jeannette Montgomery Barron, "Scene", which showcases the creative, artistic and eclectic energy of that decade.
The cozy Clamp Art exhibition also features exclusive photos taken by one of our faves, Linda Simpson. With a fun and bouncey soundtrack in the gallery (The Clash, Blondie and Afrika Bambaataa), Simpson's point-and-shoot photographs document the eclectic club and music scene downtown, early Wigstock with Lady Bunny (pictured), AIDS activism, Liz Taylor and more. The show ends July 2nd so don't miss it!