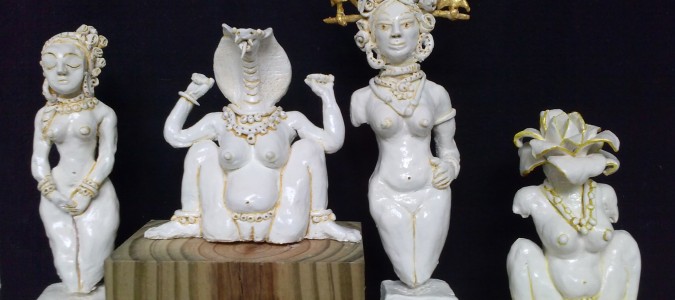 Jaishri Abichandani Open Studio
Artist and activist Jaishri Abichandani invites you to her first Open Studio in two decades of practice. Don't miss this opportunity to see her new body of work including sculptures, drawings, paintings and an assortment of pieces from over the years. Please do see the work in person, as you know some things can't be captured on camera, they have to be experienced!
Jaishri beautifully documented the emerging scene at Desilicious back in 2003 and continues to provoke with her current sculpture series inspired by artefacts from the Indus River Valley Civilization (pictured above).
Date: Saturday Sept 7 from 11 am – 5 pm
Sunday Sept 8 from 11 am – 5 pm
286 Flushing Ave, S-1
Between Grand and Steuben in the Brooklyn Navy Yards. Zip 11205
Please RSVP: jaishri.abichandani@gmail.com
In addition, Jaishri will have some work in 'The Name, The Nose" Curated by Raul Zamudio opening on the 8th of September at Museolaboratorio in Italy and a curatorial project at the Lower East Side Printshop opening September 25th entitled "Roses by Other Names."
Posted: September 3rd, 2013