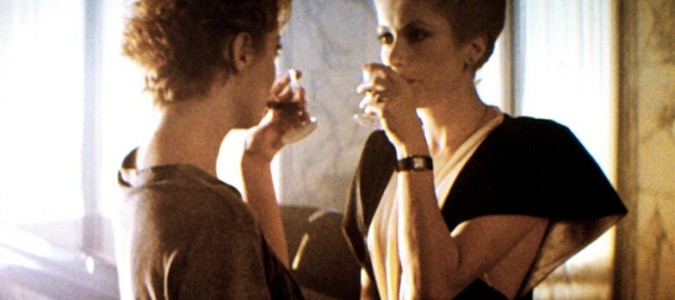 Bollyween Fright Night Videos
Happy Halloween 2013!  In honor of our favorite "holiday", we're posting some of our gothic favorites (and possible costume ideas).   First , we have the opening scene from "The Hunger", the most stylish vampire movie ever filmed.   And what's not to like – it features David Bowie and Catherine Deneuve as a stunning pair of bi vampires, a very erotic scene with Deneuve and a young Susan Sarandon (pictured above), a gorgeous townhouse, dark and smokey clubs in (pre-Guiliani) NYC with a live performance by Bauhaus and much more.
For the faint of heart, we recommend the light and fun "Something in My House" from Dead or Alive, featuring Pete Burns on vocals, who is still around making music and touring with Dead or Alive.
Finding a Bollywood horror clip that's on the same level as "The Hunger" was difficult, but we did come across this "campy?" scene from "Raaz 3″ including a take on Tippi Hedren from the "The Birds" with Esha Gupta being attacked by an army of killer cockroaches.
Feel free to send us any other suggestions. Also, be sure to come out on Thursday night to Boxers for Bollyween!
Posted: October 30th, 2013