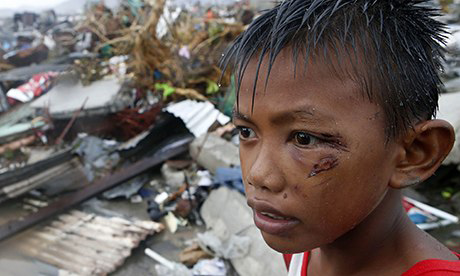 Typhoon Haiyan Linked to Climate Change
The Guardian reports that the Philippines government has firmly connected the super typhoon Haiyan with climate change, and urged governments meeting in Poland on Monday to take emergency action to resolve the deadlocked climate talks.
"We cannot sit and stay helpless staring at this international climate stalemate. It is now time to take action. We need an emergency climate pathway," said Yeb Sano, head of the government's delegation to the UN climate talks, in an article for the Guardian, in which he challenged climate sceptics to "get off their ivory towers" to see the impacts of climate change firsthand.
Typhoon Haiyan may possibly be the strongest storm ever to be recorded in history . The storm has left widespread damage across the country, displacing tens of thousands of people. The death toll of over 2,000 is expected to rise, perhaps significantly, as information is still being gathered.
Numerous organizations are mobilizing and providing aid to victims on the ground. Here are a few to consider donating to:
Posted: November 13th, 2013Tags: Climate Talks, Donations, Philippines, The Guardian, Typhoon Haiyan