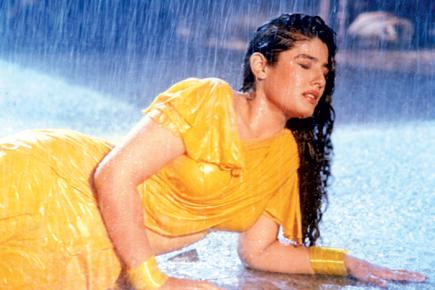 The 90s and making our hearts go "thump thump"
We are now into Day 3 of our nostalgic look at "romantic" moments in Bollywood with our favorite decade – the 90s.  It was very difficult to narrow it down to two  faves and seeing that the theme is 90s, we had to feature Madhuri and Raveena.  But, first we need to call out  one of the sexiest and campiest videos from this decade, which we wrote about here in 2010 -  Rekha and Askshay Kumar's hot performance in "In the Night No Control" from "Khiladiyon Ka Khiladi".
Speaking of a little thumping, let's go back to 1991 for  "Dhak Dhak Karne Lage" from "Beta"  with the one and only Madhuri.  Expect to hear this track at "Laal Raat" on Friday and one may remember Pamela Anderson's "recreation" of this choreography in "Big Boss 4″ a few years ago.
And, finally, another track that is also hear on the Desilicious dance floor – Raveena Tandon's "rain dance" in "Tip Tip Barsa Paani" from "Mohra" which came out in 1991.
Posted: February 13th, 2014Tags: 90s bollywood, Aki, Madhuri Dixit, Raveena Tandon, Rekha