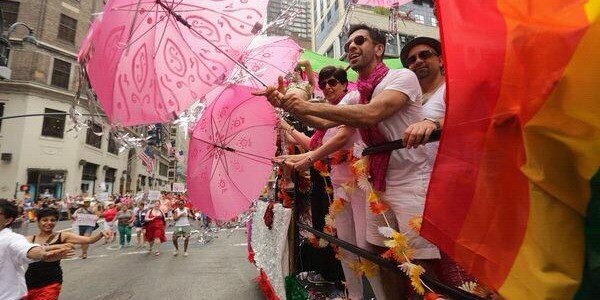 NYC Desi Queer Pride Events Calendar – 2014
Yes, it's that time of year so mark your calendars to celebrate Pride all month long. We've put together a list of Desi Queer marches, parties and events below.  Bookmark this page and keep checking back for updated information.   Email us if you've got a desi queer tip in NYC:
Saturday, May 31st
Salga NYC's Sizzling Bollywood Party @ INC lounge
Taking place on the 2nd floor of Time Hotel in midtown
The address: 224 W 49th Street (b/w Broadway and 8th ave), 2nd floor in New York
$5 before midnight/ $10 after/ no cover with desi outfit
Sunday, June 1st
March with SALGA in Queens Pride
Join SALGA and their fabulous dance team with DJ dynAMITe and allies as they march down 37th Avenue at the annual Queens Pride Parade.  Meet the group on 83rd st and 37th avenue – 10:30 am.
Parade Starts At: 11:30 am
85th Street and 37th Avenue
Jackson Heights, NY 11372
Saturday, June 8
Brooklyn Pride March and Celebration
Check back for details on the meeting place for desi queers – Brooklyn Pride is the only twilight pride march in NYC.
Friday, June 27th
Trans Day of Justice
Check back for details.
Saturday, June 28th
Meet at 5PM at Bryant Park (check back for more detaisl)
Desilicious Hot Pink Pride
Don't miss our biggest, hottest, pinkest bash of the year as we celebrate NYC Pride weekend with all your favorite Bollywood beats at Pachita.
Doors Open 10pm
Pachita
618 West 46th St
Btwn 11th and 12th Ave
(VIP top floor of Pacha)
Sunday, June 29th
Manhattan Pride March
With a float sponsored by Sholay Productions, join Sholay Productions and SALGA as we march down 5th Avenue. Check back for more details
Posted: May 25th, 2014Tags: Gay and Lesbian Pride, SALGA