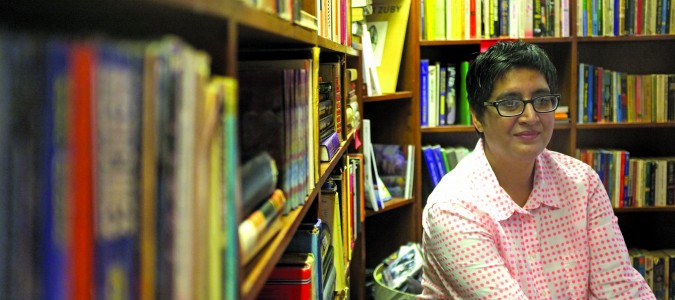 Sabeen Mahmud—a Progressive Voice Brutally Silenced
"I wondered if I could create a minuscule postmodern hippie outpost, a safe haven for artists, musicians, writers, poets, activists, and thinkers — essentially anyone who wanted to escape the relentless tyranny of the city for a little while," Sabeen Mahmud described her inspiration behind founding The Second Floor—a coffeehouse and haven for progressive expression—in a recent interview with MIT's Innovations Magazine.
On April 24th, the Karachi-based human rights and counterculture activist was shot to death by two gunmen on motorbikes as she was leaving The Second Floor (T2F) with her mother who also suffered gunshot wounds.  The center had just hosted a forum discussing citizens missing in the ongoing Balochistan conflict. As is too often the case these days in Pakistan, the unidentified gunmen got away.
T2F was founded by Sabeen in 2007 and hosted hundreds of events, ranging from poetry readings and film screenings, to vibrant debates on critical issues. According to their website, T2F has " contributed to revitalizing Karachi's cultural landscape and…provided an alternative, independent, safe space for discourse."
Sabeen's untimely death has shocked friends, family and activists around the world. Kamila Shamsie, author and contributor to the Guardian, sums up the feelings of anger and loss around the senseless killing of her friend, "Those of us who loved and admired Sabeen now find ourselves asking: why? She didn't seek political power, she didn't have the sort of reach that major TV personalities command. Perhaps it was enough that, like Malala Yusufzai, she wasn't frightened of those who seek to control through fear. Her death is the latest in a series of high-profile assassination attempts (most of them tragically successful) of women in Pakistan who fearlessly take on one group or another that seeks to terrify its opponents into silence."
Posted: April 28th, 2015Tags: Kamila Shamsie, Karachi, Sabeen Mahmud, T2F