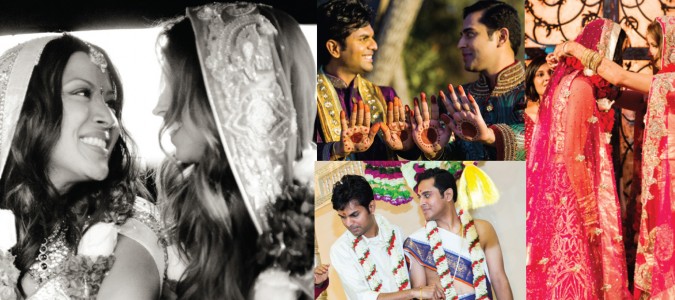 Bibi Bridal Issue Features Gay Desi Weddings
The Supreme Court's landmark ruling on same-sex marriage is not only a historic step forward for equality, it also means more fabulous gay weddings across the country! Of course, desi weddings already have a queer edge with full on color and all that glitz. Desi same sex couples looking to wed can find inspiration in Bibi Magazine's current bridal issue which features two gorgeous gay weddings.
Ayesha Hakki, Publisher of Bibi Magazine notes, "This is our second year of showing South Asian LGBT weddings. How could we not? One gay man planning his own wedding is fabulous enough, but a wedding celebrated by the whole community? The color and pageantry was irresistible! Lol! On a serious note, now that there is finally marriage equality for all, we look forward to celebrating a lot more LGBT love!"
A bit about the featured brides and grooms: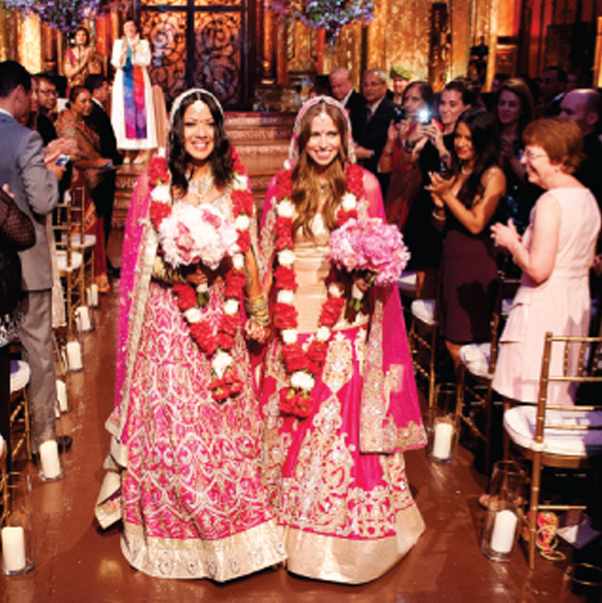 Samantha Deka and Ann Miller tied the knot in May 2013 in NYC's beautiful Angel Oresanz Foundation's cathedral-like space and the two brides walked the aisles in stunning fuchsia ghagra cholis. The couple describe the big day: "We wanted our wedding to incorporate Hindu and Western traditions. We walked down the aisle to Canon in D. The ceremony was conducted by a Unitarian minister and a close friend read the Hindu wedding ceremony passages that were important to Sam. Then, before we knew it, we were off to Bora Bora for our honeymoon!"
Karthik Sethuram and Sandeep Gopalakrishnan met on an online dating site back in 2012. Sandeep describes the blossoming romance that led to a January wedding in Canyon View, CA, "What started as online exchanges bloomed into long text chains and in November, we went on our first date. It felt like we had already known each other forever. Over the months, we shared many magical moments. In February 2014, in a hot-air balloon ride over Napa, I proposed to Karthik. We liked it so much that Karthik proposed again in March at the beautiful Dolores Park! When we finally took the steps of the saptapadi, we looked out from the mandap at all the smiling faces of friends and family who had flown in from all over the globe to show their support and love. Our wedding was different because it had two men, but the sanctity was exactly the same." Check out their sweet wedding video here.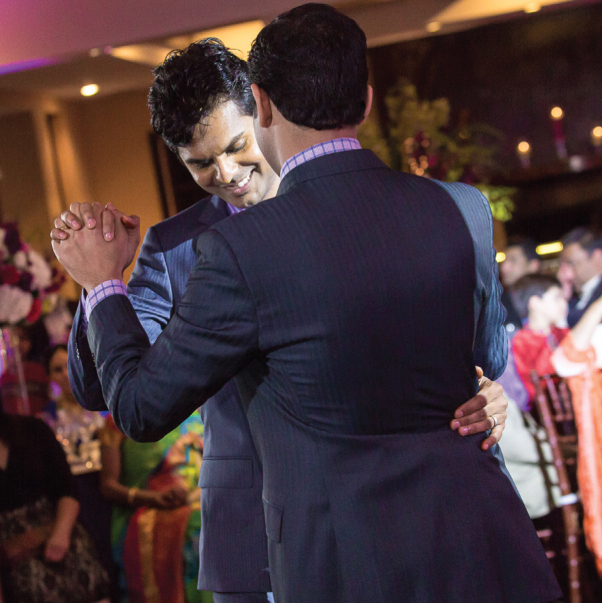 Karthik & Sandeep photos by Motion 8 Films
Samantha & Ann  photos by PhotoPink
Posted: June 27th, 2015Tags: Bibi Magazine, Bridal, Same Sex Marriage, Weddings