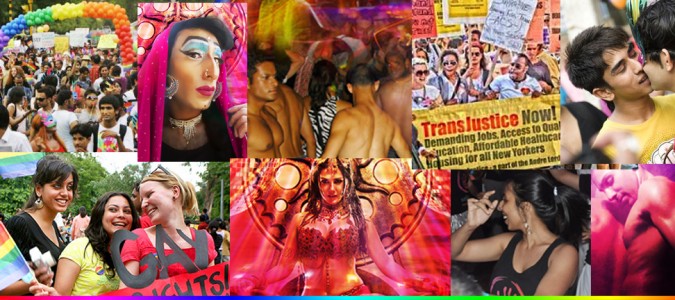 UNOFFICIAL NYC DESI QUEER PRIDE GUIDE
We've got your list of desi queer things to do during the busiest weekend of the year when the South Asians take over the town! Below is a round up of desi-queer Pride weekend events—including marches, parties, and drunk brunches. Bookmark this page and keep checking back for updated info.  Email us if you've got a desi queer tip in NYC.
Friday, June 24th:
3:30 PM
Join Audre Lorde Project as they lead the 12th Annual Trans Day of Action which will kick off Pride weekend on Friday, June 24th in Washington Square Park. Keep checking here for updates.
10:00 PM – 4 :00 PM
Get your pink on and meet us at Stage 48′s Level 3 for an over-the-top night in one of Hell's Kitchen hottest dance spaces!
Music by Ashu Rai
Visuals by Neeraj
With Your Hostess Lal Batti
Part of the proceeds benefit SALGA-The South Asian Lesbian and Gay Association of New York.  RSVP here on Facebook.
Saturday, June 25th:
12:00 PM
Join SALGA as they host a pre-Dyke March brunch.  Check SALGA's Facebook page for details on the venue and time.
4:30 PM
Take to the street with hundreds of other marchers.  Meet on the North Side of Bryant Park at 42nd street & 6th avenue.  The march steps off at 5PM and onto 5th Avenue to Washington Square Park.  The official after-march is at Hot Rabbit in Bushwick.
Sunday, June 26th

:

11:00 AM

Come march with SALGA NYC at the New York City Pride March. Every year SALGA has a fabulous presence in the pride march where it all started. Join us in representing all the diversity and beauty of LGBTQ South Asians!  Meet at 11 AM sharp at 36th Street & 5th Avenue.   Check their Facebook page for updates.

6:00 PM

Close out the weekend festivities with the largest Queer POC party in New York. Festivities kick off after the Pride march at 6PM at The Delancey on the Lower East Side.   Proceeds will support four QPOC grassroots organizations: GAPIMNY (Gay Asian Pacific Islander Men of NY), Q-WAVE (for queer women and trans folks of API descent), SALGA-NYC and Tarab NYC (Queer, Middle Eastern, North African and Fabulous.

Posted: June 11th, 2016