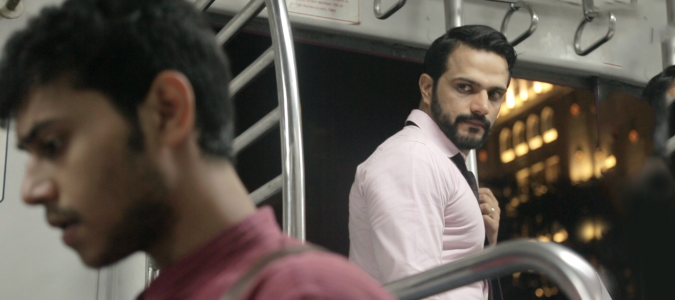 Sisak—India's First Silent Gay Short Film Debuts at Boston's Wicked Queer Fest
Sisak—India's first silent LGBT short film will debut at Wicked Queer: Boston LGBT Film Festival in April. Written & Directed by Faraz Arif Ansari, Sisak follows the story of two men in Mumbai whose eyes meet on their regular train commute.  Burdened with the larger social (and legal) scorn the two are unable to say anything to each other as their love grows in silence.
The chemistry between lead actors Jitin Gulati and Dhruv Singhal is palpable. Ansari describes the challenges of finding the right actors for the roles in his director's statement, "The casting of Sisak was the most taxing process. Most actors are so used to having a script with dialogues when they come for auditions that somewhere, that has caused a lot of damage, I feel. When I was casting for Sisak, in the auditions, all the actors had to do was sit and read a book and at some point, look at someone who is staring at them and that's about it. After auditioning more than 300 actors and not finding anyone who was even close to how I wanted the portrayal to be in Sisak, I was rethinking if I should make this film or not, until I auditioned Jitin Gulati and Dhruv Singhal. They came to audition without any preconceived notions or baggage. They surrendered to my brief and I was extremely surprised to see how true to real life their portrayals were. The kind of cinema that I believe in – slice-of-life, was so effortlessly crafted by them that I was pleasantly surprised."
We're excited to know that our very own Sholay visuals maestro, Lotus Visual, was part of the film crew as Associate Producer.
Sisak will premiers on 5th April, 7:30pm at the Museum of Fine Arts, Boston. For details and tickets, visit Wicked Queer: The Boston LGBT Film Festival. The trailer will get your heart thumping. Watch it here.
Posted: March 18th, 2017Tags: Dhruv Singhal, Faraz Arif Ansari, Jitin Gulati, Sisak, Wicked Queer