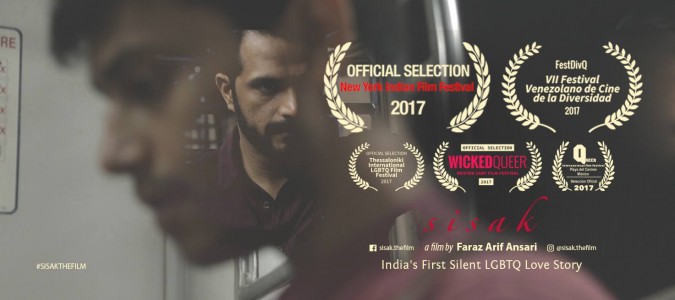 SISAK's New York Debut at NYIFF on May 2nd
Sisak, which we talked about here, will finally have its New York debut at the at the New York Indian Film Festival (NYIFF) on May 2nd at 9:15 PM.  Sisak, which is billed as India's first Silent LGBTQ love story had its world premier on April 4 in Boston is the Official Selection at Thessaloniki International L.G.B.T.Q Film Festival and Playa Pride! in Playa Del Carmen, Mexico.
And for anyone in Pennsylvania this weekend, the film will be shown on Saturday, April 15th at the LGBT center in Harrisburg PA
"Sisak" will be shown at 5 p.m. Saturday, April 15, at the LGBT Center at 1306 N. Third St.; and at 7:30 p.m. Sunday, April 16, at the Midtown Cinema at 250 Reily St.  Director Faraz Arif Ansari will be present to discuss the film after the screening.
Posted: April 11th, 2017Tags: Sisak