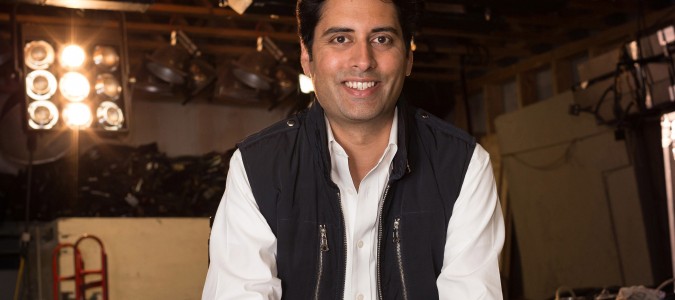 Sholay Chat with Filmmaker / Author Sri Rao
In advance of Desilicious Bollywood Wonderland on November 4th and the launch for Filmmaker and Author Sri Rao's new book BOLLYWOOD KITCHEN, we sat down with Sri to talk about his upcoming book and other exciting projects. Sri was the head writer in 2008 of "General Hospital: Night Shift," shown on ABC. He was also a producer of "New York" (2009) and "Badmaa$h Company" (2010). He wrote the Bollywood romantic drama "Baar Baar Dekho", starring Sidharth Malhotra and Katrina Kaif and featuring 2016's song of the year—"Kala Chasma".  To top it all off, he'll be executive producing and writing the pilot for an ABC comedy series about a former Bollywood star (based on the life of Madhuri Dixit) and produced by Priyanka Chopra.
What inspired you to write Bollywood Kitchen?
As one of the few Americans working in Bollywood, I'm very excited that Bollywood is growing in popularity globally — and I want to help spread the gospel, so to speak. At the same time, I think all us Indian-Americans are constantly educating people about home-cooked Indian food, explaining that "No, we don't eat chicken tikka masala at home." So I decided to put these two topics together in a book, pairing my favorite contemporary Bollywood movies with simple, home-cooked meals that anyone can enjoy.
How did you decide which movie to pair each meal with? Or vice versa?
Picking the movies was an incredibly time-consuming process because I absolutely love Bollywood so it was hard to pick my favorites. But I narrowed it down by only including films that are easily available online with good subtitles — so everyone can enjoy them — and to have a cross-section of films that samples different genres, actors, and directors. Overall, I'm really happy with the way the book turned out because it includes almost all the major films of the past 20 years, with beautiful pictures of each. It's a must-have coffee table book for any Bollywood fan.
Given your new cred as a published author of a cookbook, is it safe to assume that—between you and your husband Jason—that you do most of the cooking?
For sure. Jason can't cook but he loves eating Indian food more than I do. Seriously, he is probably the biggest white boy fan of Indian food you'll ever meet. The first time I brought him home to meet my parents, he ate 7 rotis! That was the way he won his way into my mom's heart.
Now that you are developing a TV show inspired by Madhuri Dixit's life, we're all dying to know—what is it like to work with one of the most beloved Bollywood icons of all time?
Madhuri Dixit is the most amazing, humble, gracious actress I've ever had the opportunity to work with. She's an icon for her talent and her body of work, but she's also an incredibly kind human being. It's been an honor to get to know her.  
As the first American to write a screenplay for a major Bollywood movie, what advice can you give other budding screenwriters who dream of breaking into Bollywood—a notoriously closed industry?
I wouldn't personally recommend American screenwriters to focus on Bollywood because it's a star- and director-driven industry. Unlike Hollywood, there isn't really a process of developing scripts and nurturing screenwriters toward a legitimate career. Plus, the compensation for writers isn't something you can live on as an American writer. You're much better off trying your hand as a Hollywood screenwriter. Not that that's easy either.
Meet Sri and get your own pre-release signed copy of the book. Proceeds for the evening's book sales will benefit Callen-Lorde Community Health Center.
Posted: October 24th, 2017Tags: Baar Baar Dekho, Bollywood, Bollywood Kitchen, Madhuri Dixit, Sri Rao