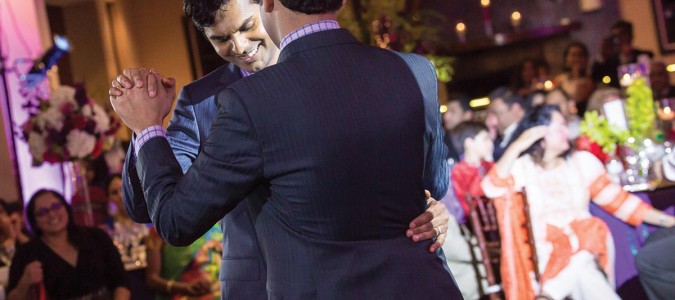 Bibi Stardust Bridal Style Salon on May 3rd
Planning on getting hitched? Our friends at Bibi Magazine and Stardust have a once-a-year event just for you! Come enjoy cocktails, cuisine, a fashion show and shopping in one of Manhattan's newest venues. Love is love and couples of all gender combinations are encouraged to attend. RSVP at BibiBridalStyleSalon.com to be added to the guest list.
To get you in the nuptial mood, read all about Karthik and Sandeep, who's storybook wedding story was featured in Bibi…
­­Two Grooms and Two Proposals—
Karthik And Sandeep 
Excerpted from Bibi Magazine Bridal Issue 2015.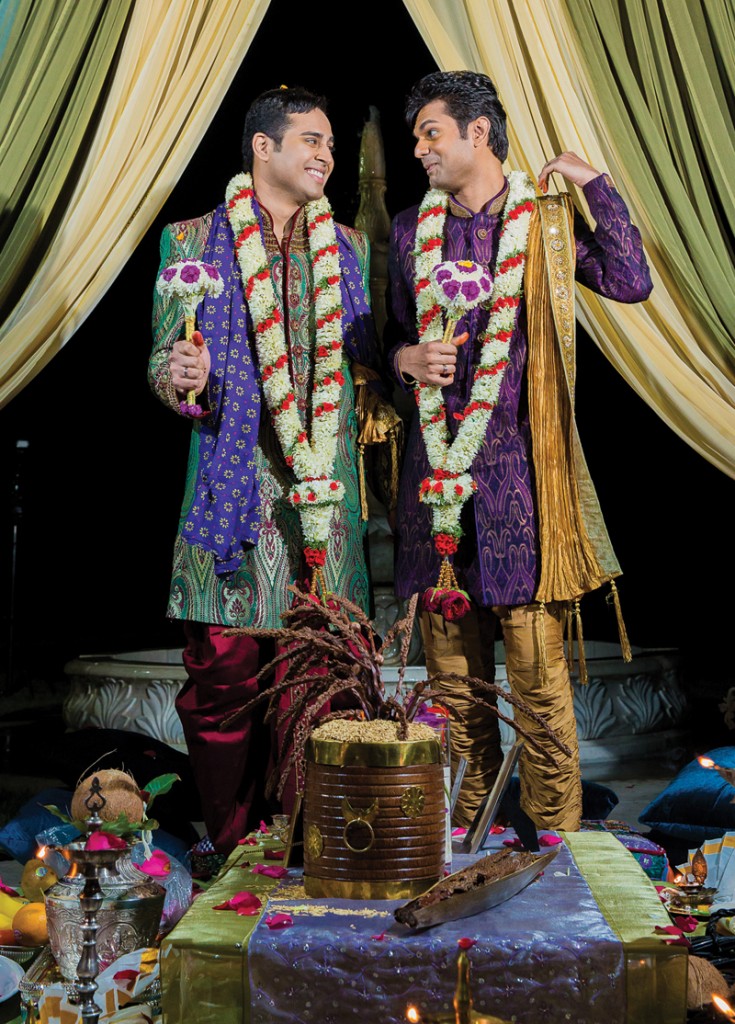 When Sandeep Gopalakrishnan first met Karthik Sethuram on an online dating site in September of 2014, he wasn't thinking much more than a few message exchanges. But the online exchanged quickly bloomed into long text chains and finally, when the couple met on their first date almost two months later, their in-person meeting was so facile since they both felt like they already knew each other.
 As their relationship progressed and their bond strengthened, both men instinctively knew that they wanted to spend the rest of their lives together. Sandeep says, "Over the months of dating, we shared many magical moments, and in February, in a hot-air balloon ride over Napa, I proposed to Karthik."
Karthik of course said yes and soon began planning his own proposal. The following month, in San Francisco's beautiful Mission Dolores Park, Karthik was the one getting down on one-knee and proposing to Sandeep.
Dressed in traditional white South Indian garments, the couple married in a customary Hindu ceremony overseen by a pandit. Sandeep adds, "When we finally took the steps of the Saptapadi, we looked out from the mandap at all the smiling faces of friends and family who had flown in from all over the globe to show their support and love. Our wedding was different because it had two men, but the sanctity was exactly the same."
For their reception at the Golden Peacock Banquet Fremont, California, the couple chose jewel-toned colors with ornate gold details. Both of the grooms wore similar outfits, but with different details. For example, although they both wore dark blue suits, Sandeep accessorized his with a checked purple shirt and a tie while Karthik wore his with a striped purple shirt and bowtie.
 Planning their wedding was a bonding experience for the couple as they navigated adapting traditional wedding customs to fit their own needs. With the help of friends and family and working with the right bridal professionals ensured that their special day went as well as they planned. Their advice to other couples getting married, "Enjoy each moment. Remember that time can slow down when you're fully present with the one you love." –Photos by Motion8 Films
 If you're considering tying the knot then this exclusive event is not to be missed:
Bibi Stardust Bridal Style Salon
May 3rd, 5- 10pm
at Town 221 West Broadway, New York, NY 10013.
RSVP at BibiBridalStyleSalon.com to be added to the guest list.
Brought to you by Bibi Magazine and Stardust.
Posted: April 19th, 2018Tags: Bibi Magazine, Bibi Stardust Bridal Style Salon, Desi Wedding, LGBTQ Wedding, Stardust