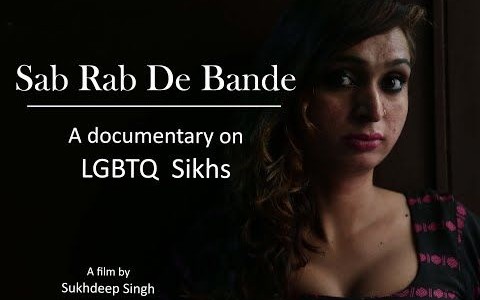 "Sad Rab De Bande" – A New Documentary on LGBTQ Sikhs
A documentary on the LGBT+ Sikh community, "Sab Rab De Bande (All are God's children)" has launched its crowdfunding campaign.  Below is a recent interview with the Delhi based director/filmmaker Sukhdeep Singh on this latest project and you can donate here.

Tell us a bit about yourself Sukhdeep.
I founded Gaylaxy Magazine in 2010, at the age of 21 while I was finishing my B. Tech. Gaylaxy is an Indian LGBTQ e-magazine that is available in English and Hindi. I have also contributed a chapter on Sikhism and Homosexuality in the book I am Divine So Are You. I am a recipient of the January Marie Lapuz Youth Leadership Award for 2016 and a Salzburg Global Fellow.

Tell us more about the documentary. Why did you start it?
When I was becoming aware of my sexuality, and exploring it, I was always doubtful if I will find acceptance within the LGBT+ community. I had joined various gay forums, and I was always searching for another Gay Sikh, but gay Sikhs are hardly visible within the LGBTQ community. It was only after years that I came across a gay Sikh man at a pride march in Bengaluru, and later when I moved to Delhi. However, I did have many interesting and different experiences within queer spaces as a visible gay Sikh person. Many of these experiences were between on two extremes – either outright rejection owing to my religious identity, or fetishization. In the 10 years of starting Gaylaxy and attending queer film festivals, I never came across any movie that showcased the life/experiences of queer Sikhs, and I longed to see that.  So, I finally decided to make a documentary myself.

What hardships did you face while making it? Why did it take 2 years?
The biggest challenge for me was to find LGBTQ Sikhs who would be willing to speak on camera and share their story. Most LGBTQ Sikhs are closeted in India. Homosexuality isn't discussed so much within the Sikh community. Overtly patriarchal structures and society place the burden of performing expected gender or hetero-normal roles, make it harder for LGBT+ Sikhs to come out and be open. Even the few who were out, were not willing to speak in front of camera, even though I assured them that their identity will be kept hidden. So the first person that I shot with was in 2017, but after that a few people who had agreed to be part of it backed out, and I had to then search for people who were willing to share their story, and this took a lot of time.
I was also restricted in terms of budget, as when I started shooting, I had to fund the cost through personal savings. Hence, I was mostly looking for LGBT+ Sikhs in or around Delhi. Also, I work as full time as a software engineer and then look after Gaylaxy too post office hours. So being able to take out time to shoot was also a challenge.

What do you expect to achieve via this short film?
I hope that this documentary will act as a resource guide for LGBTQ Sikhs, especially the young ones struggling to reconcile their faith and sexuality. When a queer person is going through that confusion, if he/she/they has someone they can identify with at a personal level, it goes a long way in helping to accept oneself. Within the LGBT+ community, queer Sikhs are highly invisible, and I hope that this documentary will bring some visibility to queer Sikhs and their issues.
Apart from that, I hope that this documentary will be able to start a conversation within the Sikh community on LGBTQ issues in a more positive way. Currently, discussions on homosexuality within Sikhism are mostly muted or are dominated by homophobic responses. I hope that cycle will be broken and this will inspire others to work on similar projects.

Can you tell us a bit about the team that is helping you with this project?
Camera and editing are being done by Nitendra Singh. Nitendra Assistant Professor at Uttar Pradesh institute of Design, Noida. He is also a filmmaker, designer and photographer and has worked on various LGBTQ projects in the past. He shot and conceptualised Queer Calendar 2019 featuring 12 out and proud queer individuals from India.
Narration is being done by Anwesh Sahoo, Model, Activist, Graphic Designer and Mr. Gay World India 2016. Music for the documentary is being composed by Arunansh Bhat who has composed music for various shorts as well as web series, notably Netflix India series Sacred Games and Leila. Lotus Visual Productions is also guiding us on the project.
Posted: February 10th, 2020