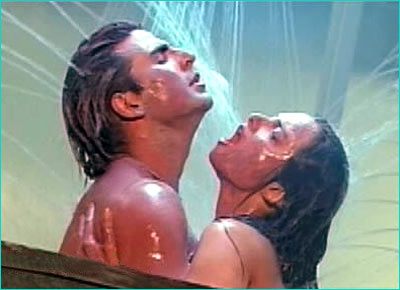 Desilicious Video from the Vaults
It's time to go back to the 90s with this nearly forgotten gem of a video from "Khiladiyon Ka Khiladi", featuring a very sultry Rekha, looking gorgeous at 42, with a young and studly Akshay Kumar. The video features a very hot seduction scene between the two with Rekha-ji seducing the khiladi, both of whom are rolling around in what looks like cookie dough before rinsing off in a nearly transparent shower! For 1996, this video was definitely a little risque, even by Bollywood standards.
The track, "In the Night No Control", is a twist on the Laura Branigan 80s hit, "No Control". You can view the track below (forwarding it 43 seconds in) and will probably notice the intense chemistry between the two leads. The "rumor" is that Rekha seduced Akshay (or vice versa) and thus ended the engagement of Kumar and Raveena Tandon, his fiance at the time.
Of course, audiences were "shocked" then (and even now) that an older woman was seducing a younger man, although Amitabh Bachchan, Anil Kapoor, Salman Khan and other male stars all get a free pass when they're grinding on screen with starlets more than half their age. Forget about Madonna, Rekha is the ultimate cougar and she's still looking as beautiful as ever, even 16 years later. And Akki? Well, we're hoping he fires his agent (especially after a dismal 2009) and stops waxing his chest.
Posted: January 29th, 2010Tags: Akshay Kumar, hot scene, In the Night No Control, Khiladiyon Ka Khiladi, Laura Branigan, Rekha, shower, Video