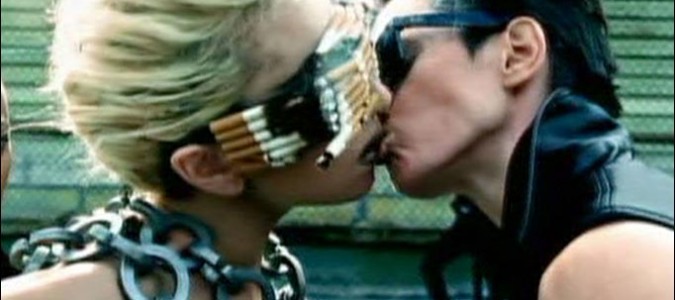 Gaga's homage to Russ Meyer, Tarantino, the Music Video and more..
It's been roughly 48 hours since the premiere of the Lady Gaga-Beyonce 9-minute video for "Telephone" and on You Tube, it's already at 9 million plus views. The Music Mix at Entertainment Weekly has proudly announced the arrival of "Gay Christmas", Australia's Daily Telegraph proclaims Gaga is the "real deal", while the Guardian itemizes the many instances of "product placement' in the video (though the author misses the point of Tarantino's Pussy Mobile by referring to it as a "stupid muscle-truck").
After multiple viewings, I'm still impressed by her homage to that 80s relic – the Music Video – with 9:32 minutes of unadulterated fun sending me back to pre-Real World MTV and the anticipation leading up to the debut of MJ's "Thriller", Duran Duran's newest creation or following the controversy around Madonna's latest. And, Gaga also uses the video to recognize the achievements of director Russ Meyer and successor, Quentin Tarantino, along with shout-outs to Lynda Carter's Wonder Woman, "Thelma and Louise", Betty Paige and David LaChapelle – just to name a few. Even Madonna must be quite impressed by the creativity – with the nicotine goggles and police tape thong. And, there are just too many other goodies to savor in this piece: the courtyard kiss, the Coke can curlers, Plenty of Fish, the gratuitious one-liners, the fashion and the closing dance number. And, extra props to Beyonce for stepping out of her comfort zone to let Ms. Gaga know what a "very very bad girl" she's been.
After absorbing the video, read this interesting analysis (with many more to come) that was tweeted by the Lady herself. And, then check out the opening scene from Russ Meyer's classic, "Faster, Pussycat! Kill! Kill!".