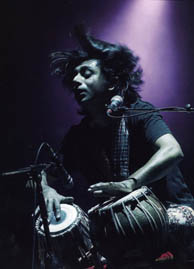 Discounted Tix – Talvin Singh at Highline Ballroom
Talvin Singh, the seminal South Asian producer/DJ/tabla player, will be returning to NYC for a special performance at the Highline Ballroom on Friday, April 23rd. Since being involved in experimental music collaborations beginning in the late 1980s, working with Sun Ra and Courtney, Singh has collaborated with several musical pioneers in various genre's including Bjork, Blondie, Sioux & the Banshees, Madonna, DJ Spooky, The Master Musicians of Jajouka, Jay Z and Ustad Nusrat Fateh Ali Khan. In 1990 Singh conceived the Tablatronic, a hybrid electronic/analog instrument which allows the player multiple sonic-processing possibilities. And, he's back in area for a rare NYC performance at Highline Ballroom.
Purchase Sholay discounted tickets at this link, and enter the access code password "desi" for $15 discount tickets.
Posted: April 5th, 2010Tags: highline ballroom, talvin singh