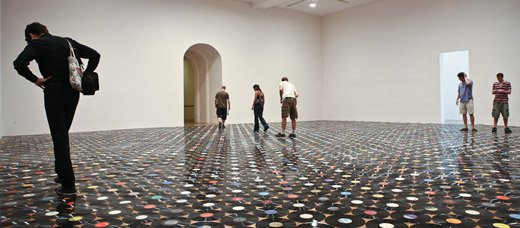 Saturday Sessions at P.S.1-MOMA on Saturday, April 3rd
Sholay Productions is proud to present, along with SAWCC, the next Saturday Sessions at PS1-MOMA. The event will take place on April 3rd from 4-6PM and will feature a set by Desilicious' own Ashu Rai, along with performances by Samita Sinha and Julia Ulehula, Qasim Naqvi (Bedstuy Ewe), LotusVe and the Parul Shah Dance Company – all hosted by Jaishri Abichandani. The event is free (with museum admission) and you're able to experience the incredible space with the music and dancers on a floor covered in nearly three thousand vinyl records in an installation by Christian Marclay.
You can view more details and RSVP via Facebook here. And, below are more details on the artists that will be performing:
Samita Sinha: Vocalist, composer and sound artist Samita Sinha uses a contemporary vocabulary together with her grounding in classical Hindustani vocal music to explore the possibilities of her voice. She has performed her solo and ensemble work at venues such as The Kitchen, Roulette, Le Poisson Rouge, Carnegie Hall Neighborhood Concerts, Issue Project Room, Blue Note, UC Berkeley, and Macalaster College, toured internationally with poet Sekou Sundiata's music-theater work the 51st (dream) state, and performs as an improvising vocal instrument with jazz groups including Marc Cary's FOCUS Trio and Sunny Jain Collective. Current projects include a solo performance, a duo collaboration with Marc Cary (a Hindustani/ jazz/ electronic/ groove heavy project called ANATOMY), and a commission to compose a score for Fiona Templeton's The Medead. She has received awards from NYSCA, Queens Council on the Arts, Fulbright Foundation, Urban Artists Initiative, and Millay Colony for the Arts.
Bedstuy Ewe is a percussion ensemble that performs traditional West African pieces of the Anlo-Ewe speaking people of Ghana, Togo and Benin. Some pieces are several centuries old and due to strong beliefs and informal oral education, many pieces have kept their traditional integrity. The members of the ensemble are all disciples of master Ewe drummer Alfred Kwashie Ladzekpo whom they learned the music from. Bedstuy Ewe are based in Brooklyn.
Amino Belyamani: Lead Drum
Qasim Naqvi, Andrew Munsey: Supporting Drums and Shaker
Ochion Jewell: Bell
Ashu Rai is a resident DJ and co-founder of Sholay Events' "Desilicious", NYC's monthly and queer South Asian dance party since March 2002. She has performed at many of New York's premiere venues, including Limelight, Pachita, Club Shelter, Pyramid, Highline Ballroom, BB King's and Rebel. She has also taken the Desilicious party and her signature mix of Bollywood dance music to Amsterdam's Paradiso for the city's India Festival and around the East Coast.
Neeraj aka LotusVe have been providing visuals to the club scene for a
few years in and around NYC. As a visual artist he derives his
inspiration from his rich South Asian heritage with a blend of
contemporary and edgy imagery. He chooses to express his creativity
mixing several years of experience as a computer professional and as a
film editor.
He collaborates with DJ, bands and other performance artists to
complement their artistic expressions by providing the Visual element.
The Parul Shah Dance Company is a talented group of dancers and musicians creating original works through the medium of Kathak, a North Indian classical dance. Based in New York, the company builds upon Kathak's mythological storytelling roots to explore bold, contemporary narratives. Parul's choreography reflects her own perspective as a highly trained Kathak dancer born and raised within New York's hybrid community. The company's signature works illustrate the paradoxical intensity and grace of Kathak movements, while preserving the emotive quality unique to Indian classical dance forms. The dance company has performed at prestigious venues such as Jacob's Pillow, Fall for Dance at City Center, Lincoln Center, Summer Stage, Central Park, among others. www.kathakdance.com
Posted: March 29th, 2010Tags: Ashu Rai, Bedstuy Ewe, Jaishri Abichandani, LotusVe, MOMA, Parul Shah, PS1, Samita Sinha, saturday sessions