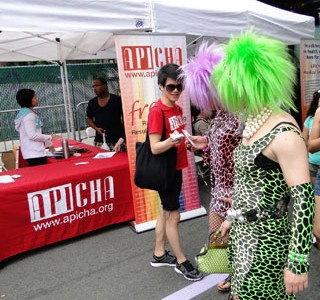 Sholay Q&A with APICHA's Daniel Huang
As we prepare for our next Sholay Afterwork Party on August 18th at Vlada, we recently conducted a short Q&A with APICHA's Daniel Huang:
When you join us at our AfterWork Mixer on August 18th, you'll have an opportunity to get free and confidential testing for HIV and other STI's thanks to APICHA (The Asian & Pacific Islander Coalition on HIV/AIDS). We spoke with peer counselor Daniel Huang about the rise of HIV among young Asian-American men and what APICHA is doing about it.
Recent reports indicate a recent rise in HIV infections among young men who have sex with men. Are there any statistics on Asian-American men?
You are right — according to the CDC, men who have sex with men (MSM) are the only risk group in which new HIV infections have been steadily increasing since the early 1990s, and in recent years, young MSM have experienced the greatest percentage increase. The number of HIV/AIDS diagnoses among Asian American and Pacific Islanders (APIs) has also been steadily increasing, with most of these diagnoses occurring among API MSM. In New York City, for example, new diagnoses among APIs have consistently increased since 2001. 89% of these new diagnoses were men, and nearly 70% were MSM.
How do you attribute the rise in HIV infections?
That's a really difficult question. We can get a sense of the complexity of the situation by looking at some of the factors. According to the CDC, "Complacency about HIV may play a key role in HIV risk, particularly among young MSM. Since young MSM did not experience the severity of the early HIV epidemic, some may falsely believe that HIV is no longer a serious health threat because of treatment advances and decreased mortality. Additional challenges for many MSM include maintaining safe behaviors over time and underestimating personal risk."
What are some of the initiatives APICHA is taking to combat this rise?
APICHA provides HIV counseling and testing that targets API MSM. APICHA is reaching out to API MSM at events such as the Sholay AfterWork Mixer on Thursday, August 18, 2011 to bring HIV and STI counseling and testing directly to our community. APICHA also provides free individual counseling for men who struggle with safer sex practices.
What are some of the other health and support services APICHA provides?
APICHA has expanded its health services to provide personalized primary medical care including routine check-up and immunizations and mental health services to gay men in API communities and in other communities of color. APICHA continues to provide specialized medical care including case management and acupuncture for HIV positive individuals. APICHA's MSM project also has a monthly support group for gay and bisexual Asian men to meet and explore issues and experiences that concern them. These meetings are informal and fun. Please contact Joey Akima, Project Manager at jakima@apicha.org for more information.
To get information on HIV risk reduction, receive referrals for on-site testing, and other HIV-related services, call APICHA's Infoline: 866-APICHA9 (866-274-2429)
Posted: August 14th, 2011Tags: apicha