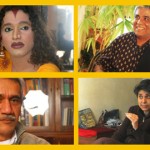 Cinemarosa presents Queer Indian Shorts by Sridhar Rangayan on July 29th
On July 24, Cinemarosa Queens presents "Indian Shorts from KASHISH with Sridhar Rangayan" on July 29th at the Queens Museum of Art in Queens. CINEMAROSA is Queens' first and only Queer independent film/video series that takes place at the museum every third Sunday of the month. In July, they will be hosting Sridhar Rangayan, Indian Filmmaker and director of the KHASHISH Mumbai Queer Film Festival. Sridhar is currently on a US tour to promote the festival as well as raise interest and funds for his new work in progress.
The selection of shorts chosen by gay rights activist and film festival director Sridhar Rangayan offer a diverse range of contemporary queer experiences, not only of LGBT persons but also their parents. These shorts films have won awards at KASHISH Mumbai International Queer Film Festival and are now traveling the world to offer a better understanding of Indian queer culture. You can view the list of shorts that will be presented along with a summary here. Don't miss this special event on Sunday, July 29 from 3:00 pm – 6:00 pm and it's FREE!
Posted: June 28th, 2012Tags: KASHISH, Sridhar Rangayan