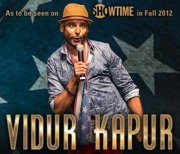 Vidur Kapur at Gotham Comedy Club on Aug 7th
Don't miss next week's headliner performance by our good friend and extremely funny man Vidur Kapur, who's had quite an eventful year! His appearance on India's reality show "Sach Ka Saamna" aired this past April and he's just taped a political standup special for Showtime with Pauly Shore, which will air this October. He'll be talking about these experiences, the election, returning to the corporate world and many other topics next Tuesday, August 7th at Gotham Comedy Club.
You can RSVP via Facebook here.
And, to prep, check out one of his many funny videos on YouTube.
Posted: July 31st, 2012Tags: Vidur Kapu