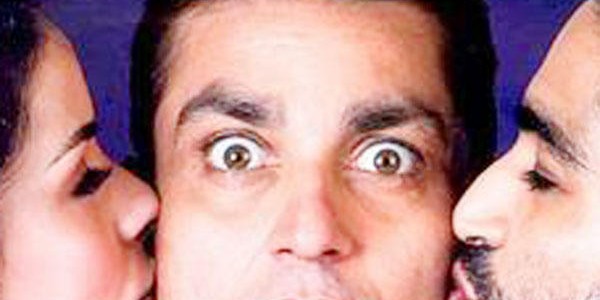 Positive Gay Portrayals in Bollywood?
In recent years, we're seeing more gay characters on the Bollywood silver screen than ever before. For the most part, portrayals are more prancingly comical than realistic. As Pooja Bhatt recently tweeted: "Maybe some day we will portray gay people in Hindi films with the dignity they deserve. Tired of seeing them only used to evoke laughter."
With the exception of a handful of films like Fire and Dunno Y…Na Jaane Kyon, Pooja Bhatt is right. But the floodgates are open and we're looking forward to a Bollywood version of Brokeback Mountain someday. Wait a minute—wasn't that Sholay?! Here's a round up of gay portrayals in Bollywood films from Daily Bhaskar. And, kudos to Pooja Bhatt who has always been a supportive and fierce ally! In 2001, she was the Grand Marshall of the India Day Parade in NYC. And, when we marched with SALGA (South Asian Lesbian and Gay Association) past her grandstand, we'll never forgot the enthusiastic shouts of approval and support she relayed to our contingent, while standing around a group of stone-faced FIA (Federation of Indian Association) members!
Posted: November 22nd, 2012Tags: gay bollywood, Pooja Bhatt