Desilicious The Best Party In Town – EGO
Set the identity politics aside, please. For tonight, at least. Desilicious is all about the party, being yourself, and having fun, fun, fun.
Desilicious is a monthly phenomenon featuring the frenetic gyrations and contortions of the dark and the beautiful. Orientation (sexual, political, vertical) be damned! In a city long past "firsts", Desilicious is New York's first social space for queer desis to party amongst their own. In doing so, they have defied the accumulated traditions and prejudices of their native and adopted lands. Politically aware to boot, they named an event "Inspect This: The Axis of Pleasure" in the buildup to the Iraq war.
Despite all that, they, the creators of Desilicious – Ashu Rai, Atif Toor and Raj Parwatkar – are not activists.
"Not overtly activist. I mean, we're not going to demand a float in the India day Parade," Atif says. "But what we're doing is providing a space for people who haven't come out to enjoy themselves comfortably and have fun. The very act of socializing is empowering."
The founders of Sholay Events [left] are having wine at a well-apportioned apartment on the Lower East Side, discussing their collective. India-born, California-bred Ashu Rai [middle], Sholay's resident DJ is seated with a short cropped do and sharp features. Next to her is Atif Toor [far left], the creative influence behind Sholay's flyers and the legendary décor at Desilicious venues: free-floating projection screens randomly playing Bollywood scenes, psychedelic lighting blazing from every nook and corner with Ashu spinning bhangra and filmi oldies. Think: Laila in the Sky with Diamonds. And then there's Raj Parwatkar [right], the business mind of the venture.
Ashu, Atif and Raj met while organizing events at the New York chapter of the South Asian Lesbian and Gay Association (SALGA). In August 2001 they joined with comic Vidur Kumar (no longer a partner) to form Sholay, the name of the deliciously campy 70s film starring Amitabh and Dharmender. "Definite homoerotic undertones, wouldn't you say?" cracks Atif.
"No, no, no, that's not why we named it that. Sholay means 'spark', 'fire', it's passion," interjects Raj.
Atif looks at Raj and laughs.
Raj describes the genesis of Sholay: "I think we just got tired of the political world. We wanted to do something beyond just supporting South Asians who were coming out. There are so many queer desi writers, artists, and comics. We wanted to give them a platform where they fit. The best way to do that was to form our own company."
The three share a fondness for the kind of clubs one used to find in New York back in the day. "In thinking of what we might do," Atif explains, "we wanted the real underground vibe." Then 9/11 happened.
"I think we all felt very insecure about where we fit in this country after that. If anything, it made us more determined to succeed with our vision. We made an effort to include Middle Eastern organizations with the event, because after that we were all marginalized."
At their first party in early 2002, the founders of Sholay realized they had something going.
"The vibe was just so cool, so mellow," says Ashu, who speaks, despite her pixie-like appearance with confidence of someone who has earned their way in life. "I remember club owners were wary of hosting us at first, because of the bad reputation of violence at desi parties. After one Desilicious, though, they couldn't wait for us to come back."
"You walk in the room, and DJ Ashu is playing a tune from Pakeeza over house beats, and you think, 'I was once sitting in India listening to this and now I can dance to it,'" adds Raj.
That was before the drag queens. The statuesque Bijli, the sultry Jennifer St. Cartier, the frankly indescribable Zeena Diwani are now an integral part of the scene. At a recent party, crowds gathered around Zeena, as she performs dance moves that I am sure God did not intend for Pakistanis.
"They' re interesting, aren't they?" Raj deadpans. "They live in New York, we don't airlift them from the subcontinent on H-1 visas. They have day jobs – hairdressers, bookstore, paralegals. They don't come because we pay them, they come because it's fun, and, really, where else can you do this?"
A cross-cultural hit, Desilicious has grown beyond its South Asian focus. Indeed, it is growing beyond the simplistic label of being a "queer" event.
"I'd say the breakdown is now 60-40, 40% non-desi," affirms Ashu. "We get a lot of hetero couples too, looking for a chilled out joint with good music."
Sholay Events, itself, is moving beyond the Desilicious parties. Laff-O-Rama , a South Asian comedy festival headlined by Shazia Mirza ("Hello, I'm Shazia Mirza. At least that's what it says on my pilot's license.") recently concluded a run at the Baruch College Performing Arts Center. There have been cultural events at Queens Museum of Arts and book launch parties at the Cosmo Lounge.
Ashu, Atif and Raj know the score, though.
As Raj puts it, "We're known for parties. We don't mind that. For now."
For A Night at Desilicious…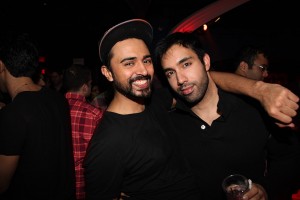 Leave your couture threads in the closet and check your inhibitions at the door, because we're in for a night of pure unadulterated decadence – minus the attitude. To say an evening at desilicious is a unique experience is selling it short. Ashu, Atif, and Raj have created an unequivocally singular atmosphere that incorporates some of the most alternatively delightful facets of urban nightlife that seem to transcend the 1970s disco scene, dark and glorious 80s new wave, and the present day mass club circuit.
Yes, there's obviously more to it than just that – a lot more. This is a monthly event that not only fosters a gay south asian party scene, but it wholeheartedly celebrates it too. The minute one walks through the door, you are greeted with music that ranges from the latest Bollywood chart topper to an almost impossible-to-find Pet Shop Boys remix. Even at its most experimental, resident DJ Ashu spins an eclectic mix of songs that have one goal in mind: to make the crowd move. And move they do. There's hardly a soul in the house that can resist the heart pounding mix – its intensity is only broken up at rare moments when Ashu lets her punk rock adoration shine.
All the traditional hallmarks of a night out in New York are present. The bar gets crowded, substances are consumed, drinks aren't cheap and everyone gets hit on. Who can you expect to rub shoulders with on any given desilicious night? Everyone, baby! From gay to straight, young to, well, young at heart, hip to just plain nerdy and aunty to nephew – there is no prerequisite to walk through the desilicious gates. Even famed director Mira Nair dropped by at the last party! If you can let their hair down and have a good time, desilicious provides a guilt free and nonjudgmental atmosphere to immerse yourself in. The scene harks back to the warehouse style parties that gave birth to the rave culture of the late eighties – complete with inspired red and blue lighting and dazzling visuals. The party doesn't let up till the wee hours of the morning, so come in, throw on a dash of glitter – and shine on.
Photographs Courtesy Sholay Events
By Shan Anwar and Mohammad Shah © EGO 2005
Posted: January 20th, 2005Tags: Desilicious, Ego Magazine, Queer