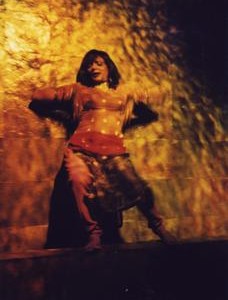 QUEERIN' QUEENS 2nd Annual LGBT Pride Celebration
Queens Museum of Art Sunday, June 13th 3pm -7pm, Flushing Meadows, Corona Park
FILM / VIDEO: Works by Harune Massey, Sridhar Rangayan and Hector Canongeof Cinema Rosa. Featured videos include: Go Boys, an informed look at the industry of go-go boys and The Pink Mirror (Gulabi Aaina), a colorful and comic look into the Indian closet that pits two Indian drag queens against a westernized gay teenager in a battle to woo a handsome hunk.
PERFORMANCES: Performance artist, La Muñeca creates an exciting blend of spontaneous live performance with video projection. Live music performance by Mahina Movement. 'Mahina', is taken from the Tongan word for moon and the Spanish to imagine, and the group explores creative means to reframe our consciousness through dance, theater, spoken word and song. Plus fab drag performances by the divine Zeena Diwani, Jennifer St. Cartier, Appolonia, and the always electrifying Bijli.
DJ SET: Sholay Productions' own resident DJ Ashu Rai shakes up the Queens Museum with her signature mix of Bhagra, Bollywood, and World beats.
FREE SNACKS provided throughout the event, which is open to the public and free with Museum admission (suggested donation: $5 adults, $2.50 seniors/students, members and children under 5 free.)
SUBWAY DIRECTIONS: Via #7 Flushing IRT. Exit Willets Point/Shea Stadium and follow the yellow signs on a ten-minute walk through the park to the museum, which is located next to the Unisphere. Alternatively, exit at 111th Street Station. Walk south on 111th Street past the New York Hall of Science. Left on 49th Avenue into the Park. Continue past fountain over the Grand Central Parkway bridge. Museum is on right, next to Unisphere. Go to http://www.queensmuseum.org/ for directions by car and bus.