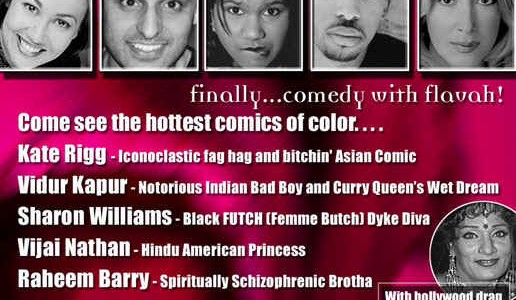 LAFFALICIOUS
Kim Cea is a two-time MAC AWARD nominee for Best Female Stand-up Comedy and was recently the winner of Budweiser's Ladies of Laughter contest at Madison Square Garden! Her numerous television appearances include an Emmy Award for THE NEW'S IN REVUE on P.B.S. & Guest Starring roles on LAW & ORDER. On Broadway she starred in SMOKEY JOE'S CAFE, a role she also originated in the 1st National Tour. Other nat'l tour credits include FAME: The Musical Off-Broadway, she has appeared in STARMITES, FAME TAKES A HOLIDAY, FINKEL'S FOLLIES, CBS LIVE to name a few. Regionally, she has played leading roles in FUNNY GIRL and LITTLE SHOP OF HORRORS & BUBBLING BROWN SUGAR. Her film credits include THE GURU, DOMINIC AND EUGENE, GUNG HO, and LADY BEWARE. She is a regular at CAROLINE'S On Broadway doing her standup act, as well as numerous clubs such as GOTHAM, SWEET CAROLINE'S, GRAMERCY COMEDY CLUB, THE DUPLEX, DON'T TELL MAMA, around New York City. Kim is also a member of the New York Friars Club. www.KimCea.com
Kate Rigg, Host of Gay Pride Rally 2003 and has been performing character comedy in New York and Los Angeles. Kate has written a musical and two comic operas performed at The Clarke Studio Theater at Lincoln Center.Her television credits include OZ, Law and Order, Guiding Light, Wonderland,four national commercials, and the special "The Human Race". She is the Fashion Cop on the soon to be launched YONew York Networks and an upcoming contributor to Laugh.com. Her first one-woman show "m/OTHER/land" was produced in New York, Toronto, and Melbourne. her newest show, "Kate's Chinkorama" premiered at PSNBC in February and is part of this year's New York International Fringe festival.
Sharon L. Williams performs at Gay Pride Festivals all over the country. She headlined at D.C. Black Gay Pride for three years in a row.
Vidur Kapur was raised in India and has also lived in London, Chicago, Los Angeles and now lives in New York. Vidur is probably India's only openly gay comedian and hilariously raises issues dealing with homophobia, racism, cultural sensitivities and gender identity. He produced a monologue entitled "All About My Mummy," in which he explored many identities and personas, including a Catholic and a Muslim, and assumed several ethnicities. He has trained in comedy with Larry Amoros (writer for Rosie O'Donnell). He is working on a second monologue called "Indian Gay and F***ing Fabulous" in collaboration with Tami Haleva, who has written jokes for David Letterman and Caroline Rhea. Vidur performs at colleges and comedy clubs in and around Manhattan including Carolines on Broadway and Gotham Comedy Club. www.vidurkapur.com
Vijai Nathan performs all over the country was chosen to showcase at the Chicago Comedy Festival's Fresh Mugs May 2001; She was featured in Toyota Comedy Festival's "Femme Fatales" with Sunda Croonquist June 2001; Vijai performed at the Boston Comedy Festival April 2001; she was a finalist in the "Gilda's Club Laff Off" March 2001; Vijai was one of 20 semifinalists in New York City chosen for Comedy Central's Laugh Riots 2000 national contest; She appeared on the PBS show "Asian America" January 2001; Vijai was a featured performer on Canadian TV's "She's So Funny" in April 2000; and she was featured in a series on the South Asian Diaspora for the Indian National and International Network Fall 2000.
Raheem Barry performs in comedy clubs all over New York, including Don't Tell Mama, Caroline's, and The Duplex.
Posted: December 11th, 2003