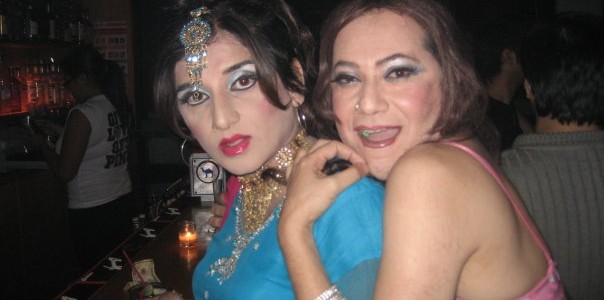 Desilicious Debut at Rebel
We're all still recovering from all of the Diwali sweets and treats and the insanely fun "Desilicious Vamp It Up" party from this past Friday night! It was an exciting night for two reasons: it was our first party in two months (since we skipped the month of September) and it was the debut of Desilicious at Rebel. Some of you old-timers may remember when we teamed up with GLAS (Gay and Lesbian Arab Society) in 2003 for Habibi at the same venue, back when it was called Downtime. Since then, the club has been taken over by new management and completely revamped. With glowing reviews from our partygoers, we'll be back at Rebel for our November and December parties.
It was a packed night at Rebel with Ashu Rai and DJ Bobby in the main performance hall and Harune in the front lounge. Spotted milling around the dance floor were photographers from both Time Out New York and Next Magazine documenting some of the crazy madness on the dance floor and in the restroom lounge (hmm). Hamida entertained the audience during the height of the party with her performance to "Maar Daala" and lots of crazy antics were heating up the dance floor (folks, be careful with those go-go cages!) and some hot action in the front lounge (from what we "heard"). Stay tuned for party pics from the crazy night and we're already thinking about our outfits and ideas for the November party, our 4th Annual Bollywood Jungle Party. So, keep an eye out for those leopard skin tops/t-shirts/skivvies, feathers and wild animals.
Posted: October 19th, 2009Tags: Desilicious, Rebel