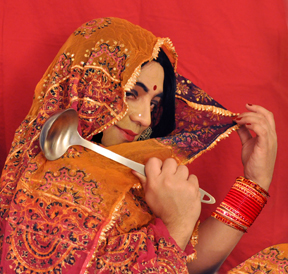 Cous Cous Hota Hai!
It's the summer (well, almost the end).  Where did you travel to, what did you do? Tell it all to Sandhya.
Sandhya took a little trip to Berlin. She ate lots of currywursts, bratwursts and drank some beer.  Now instead of a double chin, she has a double tummy. No worries, Sandhya knows how to exercise and drop it all off.  Sandhya also learnt a few dishes and wants to share one of them with you all so that you can make yourself happy. Its called SSS "Sandhya's Summer Salad" – with a little bit of this and a little bit of that.
First you find a hot middle eastern man who knows how to make Cous Cous. If that is not possible, find one and teach him.  Ok I digress…
Then stir fry chopped vegetables and raw garlic pods or roast them in oven (300F for 15-20 mins). Meanwhile make cous cous as per the directions (by the man or the box).
Now comes the mixing.
Take salad leaves, toss with the cous cous, veggies, some rock salt to taste,  and black pepper. Remember not to add the garlic – set it aside. Can't kiss with garlic breath..  Drizzle some Modena vinegar and olive oil, add croutons, pistachios, roasted nuts (cheeky cheeky). Garnish with toasted baguettes which have roasted garlic rubbed all over it (yum yum) and some maybe some cherry tomatoes or sweet peppers.
Feed yourself and your special friend who helped you make cous cous. What say?
Posted: August 5th, 2014