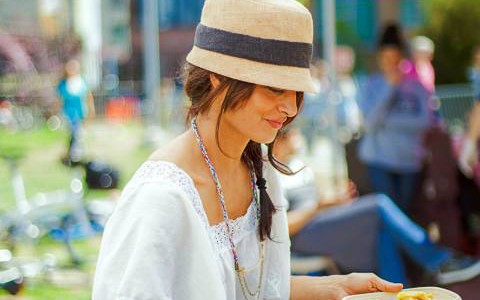 Spicing Up Brooklyn with Anna Roy
We're thrilled to be co-hosting our first Desilicious Supper Club with Anna Roy, the culinary maven behind Brooklyn's most fab catering company—Daal House. Anna will be presenting a "Winter Kerala Sadya" at a private home in Brooklyn. The dining experience includes a three course meal with wine pairing. Email us at info@sholayevents.com if you are interested in joining the festivities which take place on Saturday, January 31st at 7pm and we can send you further details. Seating is very limited.
We had the pleasure of chatting with Anna over a cup of chai to find out the story behind her entrepreneurial venture in Kerala soul cuisine.

When did you launch Daal House and what inspired you to start a catering company?
Daal House as a concept started in January of 2012. At that time it was just a simple idea to present a healthy, authentic and unique alternative to the various offerings at Smorgasburg, the outdoor food market in Brooklyn. This was a pet project that organically grew into a catering business, as agencies approached me to create menus suited for corporate and private events.
What's the biggest challenge in running a solo-catering practice?
There are a lot of aspects to catering, and I went into it completely oblivious as to what it entailed. Baptism by fire and a sharp learning curve: everything from sourcing ingredients to timely deliveries without spills, reliable staff,  learning to cook for large numbers and the humble realization that not everyone is going to love your food. No matter how much heart you put in it or believe in it, some folks don't like coconut (a staple ingredient in almost all Kerala food).
What's been the best part of Daal House for you?
Being the Ambassador of sorts for Kerala cuisine to an audience who may otherwise never had access to it, has been incredibly rewarding.
Tell us about the craziest thing that ever happened at one of your catered events/dinners?
Forgetting serving spoons for an 80 person corporate event. The menu was a mix of Kerala stews!  We hit every deli, and restaurant on the block. Managed to find a couple in the kitchen of the office and paid another catering company who happened to be in the building, an exorbitant amount to buy disposable spoons from them. Incredibly stressful 20 minutes. The reviews still came in well thankfully. 
What makes Kerala cuisine so damn delicious?
Its truly a unique cuisine using unusual combination spices, coconut in every form, and tropical vegetables that are not commonly found in foods from other parts of India. Also there is a very healthy element to the foods. Its almost entirely dairy free and most of our foods are rice based, making it a good alternative for the gluten sensitive. Also the use of coconut oil and its never-ending benefits as stated by the nutrition pundits.
Give us 3 tips for hosting a fabulous dinner party
Having a beautiful presentation, inviting adventurous diners and ensuring there's a seamless delivery of the courses and drinks. I think guests have a better time when the host is able to pull off a multi-course dinner party with calm and ease.
So, what's next for Daal House?
As of this year, Daal House is branding itself as collective of female Brooklyn chefs from various culinary trainings and backgrounds collaborating to serve the growing demands of catering. As the jobs that were coming my way became more expansive, I realized that I needed to respond with a wider range of options. I started off collaborating with chefs I had worked with while catering yoga retreats, and now have expanded to a 5 chef collective. We've launched our first winter menu consisting of traditional "slow food," Italian, home made artisanal pastries and breads, beautifully handcrafted Bento boxes, seasonal soups, and several other nouveau American and international cuisines.
Posted: January 18th, 2015Tags: Anna Roy, Catering, Daal House, Kerala cuisine, Smorgasburg