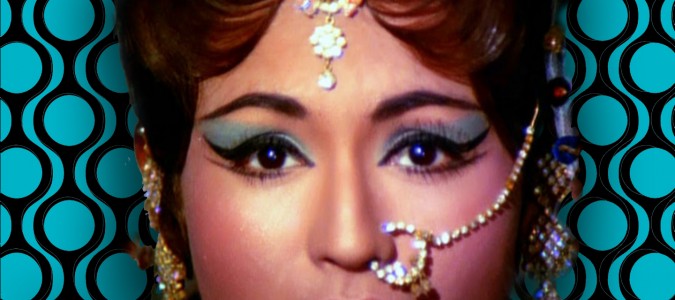 Cabaret Flashback 1973: Helen Turns Up the Heat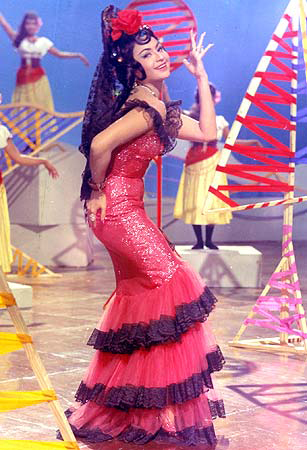 "Hazel eyed-chic-sleek-gorgeously glamorous twinkle toed dancer charmer of the silver screen" is how the Queen of Bollywood cabaret—Helen—is described in a publicity piece from back in '73.
Helen first appeared in Bollywood films in the early 50s where she cut her teeth as a chorus dancer. Her big break came along in 1958 when she performed solo in the film Howrah Bridge to "Mera Naam Chin Chin Chu" with playback vocals by Geeta Dutt. Her reign as the naughtiest of Bollywood starlets spanned over 25 years as she jiggled, writhed, and sparkled her way through well over 500 films.
Born Helen Jairag Richardson in Burma in 1939 to an Anglo-Indian army-officer father and a Burmese nurse mother, her early years were filled with more anguish and turmoil than you'd find in your average Hindi film. After losing her father in World War II, she fled Burma with her family to escape the Japanese invasion in 1943. They traveled mostly on foot, depending on the kindness of villagers and British soldiers to make it through the long journey. The surviving family members finally settled in Mumbai. Her troubles didn't end there. Living on the edge of poverty, she gave up her education to support her family. Her fortune changed in a Bombay minute with a chance exchange with a friend—the actress and dancer Cuckoo—who lined her up with her first chorus dancing gig. The rest is Bollywood history. Well…there's also her whirlwind romance and marriage to screenwriter Salim Khan (father of the ever-hunky Salman Khan)…but that's another story.
Her baudy exuberance might look pretty tame compared to some of the raunchier item numbers of today (with Sunny Leoni dry humping her way to Bolly blockbuster stardom—just sayin'). But, in her time, Helen was a hip-shaking sensation. As Huff Post blogger Ben Mirza points out, "She was the embodiment of a new India, of a generation which was ready to embrace fun and social liberalism."
We're dedicating our Bollywood Cabaret bash to Helen and all of the other chic-sleek-gorgeously glamorous twinkle toed queens of cabaret who broke all the prim social norms of their time, paving the way for the item girls of today who could learn a thing or two from Helen and her legendary moves.
Check out this compilation of Helen's Top Cabaret Hits:
And this documentary, "Helen, Queen Of The Nautch Girls" by Merchant-Ivory. While the narration is kinda annoyingly condescending, the interview with Helen is riveting. And the opening dance-off between Helen and Vaijayanti Mala is a must see!
Posted: January 21st, 2015Tags: Bollywood, Bollywood Cabret, Cuckoo, Helen, Queen of Cabaret, Sholay Productions, Sunny Leoni