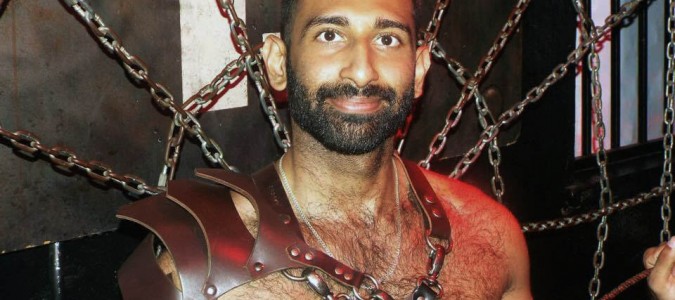 The Leatherman and His Proud Pakistani Grandparents
"I couldn't be the out and proud leatherman I am today without the support of my family." Ali Mushtaq wrote on Facebook recently, alongside a photo of himself with his grandparents. The 27-year-old Pakistani-American is the current reigning Mr. Long Beach Leather.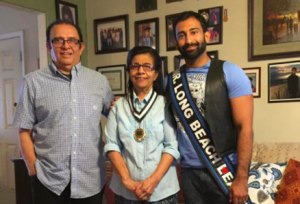 He's lived with his grandparents since the age of 11 and came out to them when he was 15.  He started exploring the LA leather scene in college and didn't  hide his interest in the subculture from his family."When I first came home, my grandma was like, 'Why do you have ropes?'" Mushtaq recalled, laughing. "'Why are you going to the hardware store all the time?'" In an interview with the  LA Times, he spoke about the preconceptions people have of him as a gay, leather wearing South Asian man "They're always trying to figure me out," he said.  "People right now have this idea that Muslims … are the enemy, the devil, that they're this vilified group that's out to take out democracy. And it's like, no, we're here, we're equally part of this country, and we're here on the forefront of progressive change in our communities," Mushtaq said.
In addition to his commitment to becoming a role model for the gay leather community, Mushtaq is completing a PhD in sociology at UC San Francisco. His research is on the topic of fitness and how race, class, and sexuality affect it. Mushtaq's essay in Leatherati on race in the leather community delves into the issue of "interchangeability" — being of color and interchangeable in the eyes of many white men: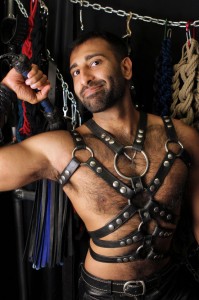 "Being South Asian and into leather means I occupy the position of being 'that hot Middle Eastern guy,' even when I'm not ethnically Middle Eastern. But when I meet someone for the first time, I always have to respond to, 'Where are you from?' with my ethnic background, and never the city I'm from, especially when I'm at a leather bar. If I don't respond the way people expect me to, people probe for my ethnicity, as if that's a key part of my being. To them, the logic seems harmless, 'I'm just curious.' However, especially when prefaced with 'I think Middle Eastern men are hot,' there seems to be an underlying relationship between my alleged ethnicity and being sexually desirable. Therefore, the logic of 'where are you from?' becomes embedded in a stereotype and expectation, 'you are going to tell me your ethnicity because your ethnic background helps me use stereotypes to figure out who you are and how we would have sex with one another.' My ethnic background says little to nothing about my individuality or my sexual preferences. I'm pretty sure, however, this doesn't happen to my White leather brothers. They're free to be from St. Paul, Rochester, Los Angeles, or San Francisco without any question."
Mushtaq's grandfather, Abdullah, initially had concerns for his grandson as a minority within a minority. "I don't think it's easy to be a gay person anywhere in the world," Abdullah said. But his adoring grandparents kept open minds and have become his strongest allies. "We are learning from Ali," Abdullah adds. "Everybody learns from everybody else. Someone else learns from you, and it keeps on going. Even though we are old, we are still at that phase of learning and understanding this generation."
Posted: March 11th, 2017Tags: Ali Mushtaq, gay, LA Times, Leatherati, Mr. Long Beach Leather, Pakistani