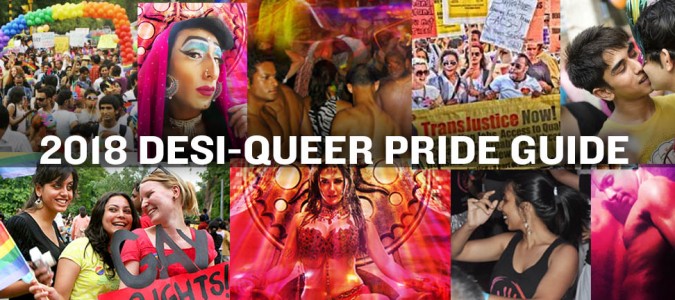 Unofficial 2018 NYC Desi LGBTQ Guide
It's that time of year again and we've got your list of desi queer things to do when the South Asians take over town! Below is a round up of NYC Pride related events—including marches and parties.  Bookmark this page and keep checking back for updated info.  Email us if you've got a desi queer tip in NYC.
Sunday, June 3rd
Queens Gay Pride Parade & Festival
12PM
Kick off Pride Month at the most diverse LGBT Pride Festival in the country.
The parade route is 37th Avenue from 89th Street to 75th Street with a reviewing stand at 37th Avenue between 79th and 80th Streets.
The festival will be held on 75th Street and 37th, beginning at 1:30pm and ending at 6pm. Vendors, food and informative business, community and social group booths are located throughout the festival site.  You can find out more here.
Saturday, June 9th
DJ Rekha + Doonya: Bollywood Workout. Live Spun Class Fundraiser for SALGA
11 AM – 1PM
Gibney Dance,  280 BROADWAY @ CHAMBERS ST. in NYC
Spend two non-stop hours dancing to your favorite Bollywood tracks spun by DJ Rekha. All proceeds will benefit  SALGA-NYC (South Asian LGBTQ Association). You can RSVP here.
Saturday, June 9th
Brooklyn Pride March
6:30 PM
The annual march will take place on 5th Avenue + Park Place in Park Slope, Brooklyn
Wed, June 20th–Sat, June 23rd
Diasphoria Bazaar
12 PM
A1Bazaar and the Leslie-Lohman Museum of Gay and Lesbian Art present the Diasphoria Bazaar, a four-day pop-up shop showcasing queer/trans artists of color and artists of the South Asian diaspora. There will be art, jewelry, fashion, spices, and an opening night of performance. The space will evoke a bustling bazaar with tactile installations and vibrant experiences and will be located at the museum's 26 Wooster Street location.
All artists and small businesses featured in the bazaar resonate with theme of "diasphoria," exploring gender dysphoria, queerness, and the South Asian diaspora. For more info, their Facebook and Eventbrite pages.
Friday, June 22nd:
Trans Day of Action
3 PM Onward
Join Audre Lorde Project as they lead the 14th Annual Trans Day of Action which will kick off Pride weekend. Check ALP's site for details on the location.
Friday, June 22nd:
Before you head over to Desilicious, stop by the Desi Queer Happy Hour
45 West 27th Street, Manhattan, New York 10001
9:30 PM- 11:30 PM
Friday, June 22nd:
10th Annual Desilicious Hot Pink Pride Party
10PM – 4AM
Get your pink on and meet us at PS 450 for our most over-the-top night of the year!
Music by Ashu Rai
Visuals by Atif
PS450 • 450 Park Avenue in Manhattan
Saturday, June 23rd:
Dyke March
5pm Sharp
Step off is at 5pm sharp at Bryant Park on 42nd street and 5th Avenue. The march starts at Bryant Park and heads down to Washington Sq. Park via 5th Avenue. Please bring signs, noise makers, rainbow flags, etc. etc.Bryant Park, Manhattan. More details here.
Sunday, June 24th: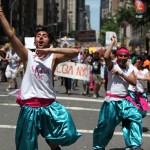 March with SALGA in NYC Pride
10:00 AM
Come march with SALGA NYC at the New York City Pride March. Every year SALGA has a fabulous presence in the Pride march where it all started. Join us in representing all the diversity and beauty of LGBTQ South Asians!  NOTE: the March route this year has changed — SALGA will meet at 17th St between 7th & 8th Ave. The parade continues down 7th Ave to Christoper St then goes East to 5th Avenue and Uptown, ending on 29th St and 5th Ave.  Check SALGA's Facebook page for updates and visit the NYC Pride page for route map.
Sunday, June 24th: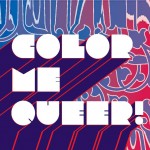 6:00 PM – 10PM
Join GAPIMNY, SALGA NYC, Tarab NYC, and Q-Wave for their annual post-parade Queer people of color blowout bash! The party starts at 6pm at the Delancey — 68 Delancey St in the Lower East Side. More details here.
Posted: May 31st, 2018Tags: Bollywood, Desilicious, gay, lGBT, LGBTQ, New York, NY Pride, Pride 2018, Queer, South Asian