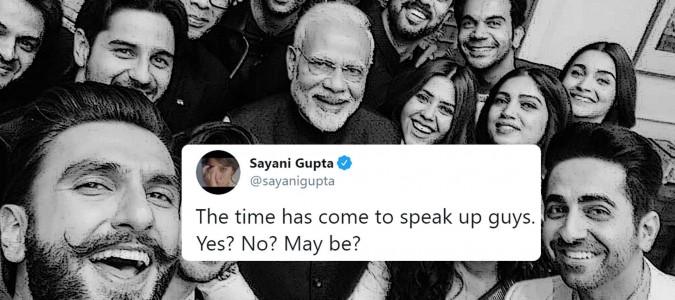 "The Time Has Come to Speak Up" Bollywood Voices on CAA Protests
"To raise your voice against something is a democratic right, people are raising their voices and I'm of view that there seems to be a certain amount of discrimination in what is happening"—Farhan Akhtar.
While a growing number of actors, directors and producers in Bollywood have stood in solidarity with protesters and expressed concerns about the Indian government's legislated attacks on pluralism, the industry has been conspicuously silent for the most part.  As noted in The Wire – India Edition, "In this moment of despair, India looks up to its popular cultural icons to make their disapproval of the government's actions public. Some indeed have. But the superstar cricketers and prominent Bollywood alpha-males have predictably maintained a careful and tactical silence."
The few who have expressed solidarity with the student protestors include Farhan Akhtar, Parineeti Chopra, Pulkit Samrat, Jim Sarbh, Manoj Bajpayee and Siddharth Malhotra.
Director Anurag Kashyap, who has been a vocal critic of Modi-led government policies took to Twitter, "This has gone too far..can't stay silent any longer. This government is clearly fascist .. and it makes me angry to see voices that can actually make a difference stay quiet."
Parineeti Chopra described the police action against students as "Barbaric" and was dropped as Haryana's brand ambassador of 'Beto Bachao Beti Padhao' campaign. "If this is what's gonna happen every-time a citizen expresses their view, forget #CAB, we should pass a bill and not call our country a democracy anymore! Beating up innocent human beings for speaking their mind? BARBARIC, " Parineeti had tweeted.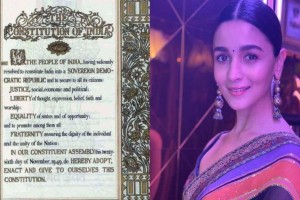 Alia Bhatt, Sonakshi Sinha and Ishaan Khatter posted pictures of the preamble of the Indian constitution on their feeds with accompanying messages in support of students and democratic institutions.
Priyanka Chopra Jonas joined the list of celebrities condemning the police attacks on students,"Education for every child is our dream. Education is what empowered them to think independently. We have raised them to have a voice. In a thriving democracy, to raise one's voice peacefully and be met with violence is wrong. Every voice counts and each voice will work towards changing India. #HaveVoiceWillRaise #HaveVoiceMustRaise. "
Sayani Gupta called out Bollywood heavies like Ranvir Singh and Karan Johar who were featured in a selfie with Modi earlier to finally take a stand, "On behalf of the students of Jamia & AMU request at least one of you to tweet or message Mr.Modi condemning this act of police brutality and violence against students. The time has come to speak up guys. Yes? No? May be? @RanveerOfficial @karanjohar @ayushmannk @RajkummarRao" So far, response from mega-stars has been either vague or silent.
______________________
Need to Know: Background on CAA / NRC and Subsequent Protests: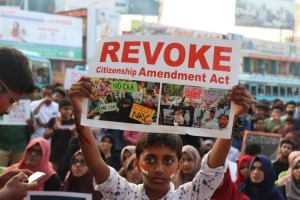 Thousands of people have taken to the streets across India to demand the government rescind the Citizenship Amendment Act (CAA) enacted by the BJP led parliament on December 11th. It gives minorities who migrated from three neighboring countries a path to citizenship, except for Muslims. Critics say it is an attack against the principles of secularism and equality enshrined in the Indian constitution.
Deep concern has been expressed both in India and internationally that Muslim citizens of India will be targeted and millions potentially rendered stateless by the CAA in combination with the proposed nationwide NRC (National Register of Citizens). Several Op-Eds have called out the legislation as part of a larger pattern of authoritarian and divisive polices set by the Modi government to solidify its sectarian agenda.
The protests have resulted in wide scale human rights violations by police and 28 deaths as of December 27, 2019. The brutal crackdowns of student protests at Jamia Millia Islamia University and Aligarh Muslim University have sparked student solidarity protests nationwide which has led to further suppression and police attacks on students and activists.
Fo an in-depth summary on Prime Minister Narendra Modi's rise to power and attempt to reshape India into his nationalist vision, read this New Yorker article.
Posted: December 29th, 2019Tags: Bollywood, CAA, NRC, Protests